Free-and-easy Brett asks for same of young Royals
Hall of Famer plans to remain KC's hitting coach as long as success follows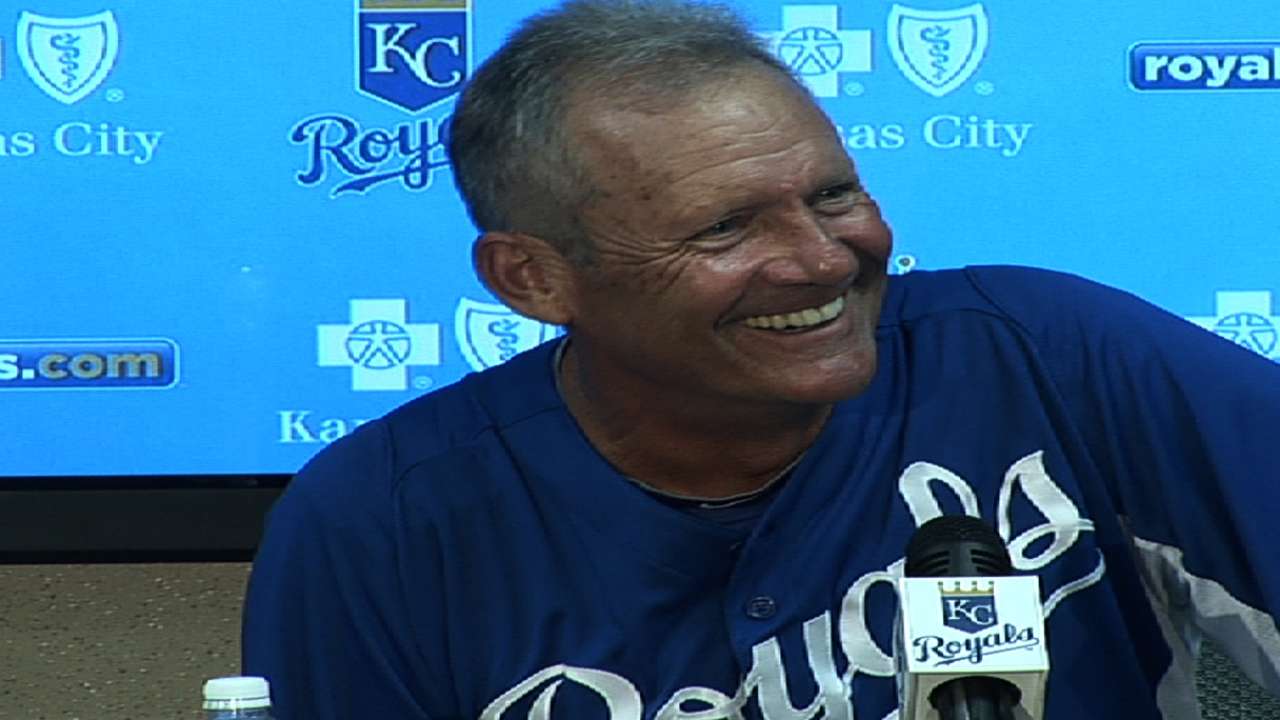 KANSAS CITY -- George Brett was his free-and-easy self Tuesday as he launched the hometown segment of his new assignment as the Royals' interim hitting coach.
He met for 17 minutes with the Kansas City media who missed his takeover of the job Thursday in St. Louis. After that marathon night -- the rain-delayed game ended at 3:14 a.m. CT -- the Royals went to Texas for three games. There, Brett was a frustrated hitting coach, because for various reasons, there was no pregame batting practice all three days.
But Brett, taking the coaching job 20 years after he retired as a player, is finding games going faster from his view in the dugout.
"I used to watch a game and come to games, and it seems like the games last three hours, but it seemed like five," Brett said. "The last four games, it seems like the game is over like that [finger snap]. I mean, I'm into it. I'm watching games like I never watched games before, and it's really fun."
The 60-year-old Brett was asked about his remark in St. Louis about taking away the baby bottles from players.
"Players have to start being held accountable," he said. "They've been around, they're not all rookies anymore. We're still a very young team, but I think it's time for them to step up and play and listen and just take responsibility for their actions on the field. If you're not hitting what you should be, you should be working harder and practicing with a little more intensity."
Brett held a meeting with his hitters before the game against the Twins. One point he made was that they should be themselves.
"Do what you're capable of doing, and that's what we're trying to stress right now. Don't try to be somebody you're not. If everybody goes out there and does their job, we have a chance to be competitive. But if everybody goes out there and tries to be somebody they're not, we're going to struggle," Brett said. "And I think that's what you see with a team that's never really won before when they go through streaks like this. Everybody gets in a panic mode and tries to do more than they're capable of doing."
One thing the Royals are not, in Brett's view, is a team that will produce a lot of home runs -- indeed, they ranked a distant last in the American League with just 29 prior to Tuesday night.
"We're not really a home run-hitting team because we try to hit too many home runs. We'll be a home run-hitting team when we don't try," Brett said. "Out of the 317 home runs I hit in my career, I probably tried to hit five of them. And I probably tried to hit a thousand. So I'm 5-for-1,000 trying and 312-for-312 not trying."
Brett said he's having a good time with the job so far, getting along well with the players. The feeling seems to be mutual.
"Just the mentality, personality and everything, he's relaxing the guys," designated hitter Billy Butler said. "He's still acting like a player, and that's great. That's what you want.
"There's been more positivity in our clubhouse than there has been in the past. He's been working on positivity. He says, 'It's going to be a great day. Regardless of what happens, it's going to be a great day, and the Royals are going to win.'"
Right fielder Jeff Francoeur believes that Brett is bringing some of the aggressiveness he showed as a player back to the Royals.
"I remember how intense he was, and I think something he's bringing is a sense of urgency, which is good," Francoeur said. "It's June 4 -- we've still got four months of the season left, and there's no reason we can't get back to where we were as far as winning ballgames and doing that on a consistent basis."
Brett is, indeed, thinking positive.
"If everybody plays to their own abilities, like they did in the first five weeks of the season, we'd be in first place," he said.
Brett realizes that it might be difficult for him to pass along his Hall of Fame hitting attributes to young players.
"The old expression: Easier said than done. For me, it's easier to do than say. I'm going to do my best to relate you guys," he told the players.
Even Ted Williams, sometimes called the greatest hitter in the game's history, had trouble passing along his expertise. Yet Brett's own mentor, Charley Lau, excelled at teaching.
"Ted Williams wasn't a very good hitting coach. Charley Lau wasn't a very good hitter, but he was one heck of a hitting coach," Brett said. "You don't find many guys that are really good hitters as good coaches. For whatever reason, I don't know. But that doesn't mean I can't try."
Brett, when assuming the role, said he'd try it for at least a month. On Tuesday, he was asked if he'd consider staying on for the entire summer.
"Yeah. The problem is if I don't do a good job, I think it would better if I retired rather than get fired," he said with a laugh.
When the request came from ownership, David and Dan Glass, to take on the task of reviving the offense, he accepted readily.
"I owe this organization a tremendous amount. Everything I have, I owe to them. Everything I've done in my life, I owe to this organization," he said. "So if they felt that adamant that I should try this, I'm here. If I don't do a good job, I think I should retire or resign. If I'm doing a good job, I'll stay on. It's simple."
Dick Kaegel is a reporter for MLB.com. This story was not subject to the approval of Major League Baseball or its clubs.