Gutierrez finding his groove in KC's bullpen
Gutierrez finding his groove in KC's bullpen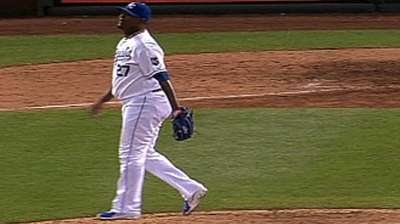 KANSAS CITY -- The new guy in town as far as the Royals' bullpen goes is right-hander J.C. Gutierrez, a former closer for the Diamondbacks. Ex-starters Bruce Chen and Luke Hochevar are new to the 'pen, but they've been on the staff for years.
Only Gutierrez is new to the team this year and he's feeling very much at home.
"We've got a great bullpen and everybody prepares different ways to go out there and do their job," Gutierrez said. "We've got good guys that can go in the seventh like [Aaron] Crow and [Kelvin] Herrera, and closing by Holly [Greg Holland], and they've been doing a good job. All the guys like Timmy [Collins], Bruce, Hoch and myself, we're prepared to help the team get wins."
Gutierrez's moment during the five-game winning streak that brought the Royals into the Detroit series was two scoreless innings that finished up a 7-2 win over the Astros on Saturday night. He was so efficient that, in the eighth inning, he got three outs on four pitches.
"I've got to be prepared every single day," he said. "I don't know where I'm going to go in. I've got to keep focused every time the phone rings and I hear my name."
Those two innings contributed to the 20 2/3 consecutive shutout innings the Royals' bullpen had put together through Monday night's 3-2 win over the Tigers.
Unlike last year, Royals starters this season are eating up a lot of innings. That's enabled the bullpen to pitch just 152 innings through Sunday, the lowest total in the American League and a full 20 innings less than the Tigers, who have the next fewest.
"That's good, because when your starter goes deep in the game it helps your bullpen stay fresh, and that's good because it's early in the season and when you save your bullpen, by August and September that's going to make a big difference," Gutierrez said.
Manager Ned Yost likes the makeup of the seven-pitcher bullpen.
"As a whole, you look for consistency and, as a manager, you want to have a pretty good idea of what to expect when you bring a pitcher in," Yost said. "And our guys have all been consistent enough, so you've got a pretty good idea of what you're going to get."
Dick Kaegel is a reporter for MLB.com. Kathleen Gier is an associate reporter for MLB.com. This story was not subject to the approval of Major League Baseball or its clubs.