Naturals well-represented at Double-A All-Star Game
Naturals well-represented at Double-A All-Star Game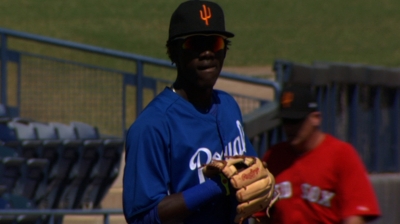 KANSAS CITY -- Four players and members of the coaching staff from Double-A Northwest Arkansas will participate in the 77th annual league All-Star Game on June 25 at the Naturals' Arvest Ballpark in Springdale, Ark.
Shortstop Orlando Calixte, catcher Mitch Canham, infielder Angel Franco and pitcher Santiago Garrido will play for the North Division team. Manager Brian Poldberg, pitching coach Jim Brower, hitting coach Nelson Liriano, trainer Masa Koyanagi and conditioning coach Nate Dine will also work with the North Division team.
Calixte, the Royals' No. 5 prospect, is batting .256 with 12 doubles, three triples and 21 runs scored. Canham is hitting .288 with 11 doubles, a homer and 17 RBIs in 41 games. He's hit safely in all seven games in June. Franco is batting .281 this season with three homers, 17 RBIs and five stolen bases. Garrido posted a 2.67 ERA and went 0-3 in 17 relief appearances. He surrendered just two earned runs in his last 10 appearances spanning 15 1/3 innings.
Yordano Ventura was also invited to play in the All-Star Game, but he was promoted to Triple-A Omaha on June 3. He went 3-2 with a 2.34 ERA in 11 starts at Northwest Arkansas. He held opponents to a .189 batting average with 74 strikeouts in 57 1/3 innings.
Dick Kaegel is a reporter for MLB.com. Kathleen Gier is an associate reporter for MLB.com. This story was not subject to the approval of Major League Baseball or its clubs.