Lough making his case to stay with fine play
Lough making his case to stay with fine play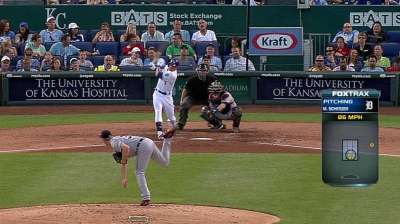 KANSAS CITY -- Outfielder David Lough sparked the offense with his first Major League homer in the fifth inning on Tuesday night. It was the Royals' first hit in a 3-2 loss to the Tigers and it bolstered Lough's effort to earn a permanent spot on the roster.
Lough was recalled from Triple-A Omaha on May 17, when center fielder Jarrod Dyson was placed on the 15-day disabled list with a high ankle sprain. In 20 games before Wednesday, Lough was batting .279 with 19 hits and six runs. He also had eight RBIs, seven coming with two outs.
"What he needed to do when he got up here was open our eyes a little bit and perform and create some offense for us, and he's done a great job," manager Ned Yost said.
Lough was hitting .340 for the Storm Chasers, including a 16-game hitting streak. He played 20 games for the Royals last season, hitting .237 with two doubles, a triple and nine runs scored.
Yost was non-committal about how Lough's success would factor in once Dyson is healthy enough to return.
"We're still evaluating and watching and looking," Yost said.
Dyson has played five games with Triple-A Omaha on his rehab assignment, batting .278 with five hits, three runs and four stolen bases.
Dick Kaegel is a reporter for MLB.com. Kathleen Gier is an associate reporter for MLB.com. This story was not subject to the approval of Major League Baseball or its clubs.