Perez grills Chen in FOX Sports KC segment
Perez grills Chen in FOX Sports KC segment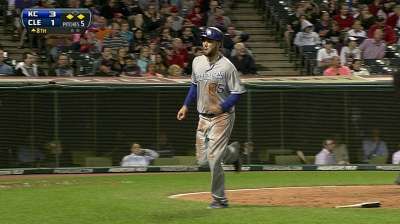 CLEVELAND -- Catcher Salvador Perez has a new sideline -- clubhouse reporter for FOX Sports Kansas City.
With the TV camera rolling, Perez took the microphone on Wednesday and did a pregame "interview" with pitcher Bruce Chen, who was celebrating his birthday.
"Chen, how you feel to get old?" Perez said.
"I don't know," Chen replied. "Every day that I go by is different. Some days it feels a little bit better, sometimes it feels a little more painful. But right now, it feels great to come here and be 36 years old."
"Now wait a second -- 36 or 42?" Perez asked, thrusting the mike at Chen.
"[Chen laughing] 36. This is my contract year, so it's 36," he said. "Once I sign my contract, I'll go for 42."
And so it went, with Perez's rich voice booming as he alternated between questions and laughter and both players obviously enjoying the moment.
By the way, Chen is 36, not 42. You could look it up.
He shares the birthday date with Hall of Famer Lou Gehrig, born in 1903.
Dick Kaegel is a reporter for MLB.com. This story was not subject to the approval of Major League Baseball or its clubs.