Johnson leading way for KC on basepaths
Johnson leading way for KC on basepaths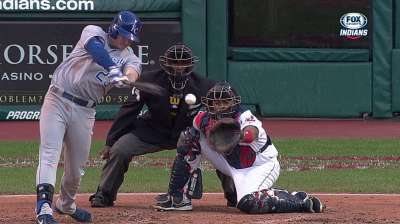 KANSAS CITY -- Who's the Royals' leading base-stealer so far this season?
Surprise: It's Elliot Johnson, who'd played in just 48 of the 72 games prior to Sunday. His total was 11, just ahead of Alcides Escobar's 10.
Johnson will get more chances now that he's likely get the majority of playing time at second base with Chris Getz optioned to Triple-A Omaha. Johnson has good speed and stole 18 bases in 123 games last year for Tampa Bay, but he credits first-base coach Rusty Kuntz will improving his technique this year.
"Rusty's been helping me out a ton. He's unbelievable. He's really made my job easy on the basepaths," Johnson said. "As long as I can keep stealing bases, it adds an element to my game that isn't necessarily unique, but it certainly helps."
Kuntz has the goods on every opposing pitcher, a necessary tool in base-stealing.
"He's got them down. He's got times, tendencies, everything," Johnson said. "What they like to do -- any different number of things. It's pretty impressive."
Kuntz passes the credit along to a behind-the-scenes operative.
"As much credit as Elliot gives me, I have to give that much credit back to Mark Topping, the video coordinator," Kuntz said. "Because without him and that little iPad thing that he gives me ... I can't do it with the naked eye, because it happens too fast and you're thinking about a million things. But when he puts that stuff on your iPad, you can go back-and-forth and look at certain things."
Kuntz shares that information with Johnson and other base-stealing candidates before the games.
"What I try to find is one key, what I call a key. It's something a pitcher does when he goes to the plate, something that he does when he comes over to first," Kuntz said.
Johnson has not been caught trying to steal yet this season. Only three other players in the Majors have been perfect in 10 or more attempts.
"The one thing that Elliot brings that every good base-stealer has to have is, he trusts the information, he sees the information and he's not afraid to apply the information," Kuntz said.
The Royals, with 55 stolen bases, were tied for second in the American League with Cleveland. Boston was first with 59 going into Sunday's games. After Johnson and Escobar were Lorenzo Cain with nine and Eric Hosmer and Jarrod Dyson each with seven.
Dick Kaegel is a reporter for MLB.com. Kathleen Gier is an associate reporter for MLB.com. This story was not subject to the approval of Major League Baseball or its clubs.