Gordon shakes slump with clear head, positive outlook
Gordon shakes slump with clear head, positive outlook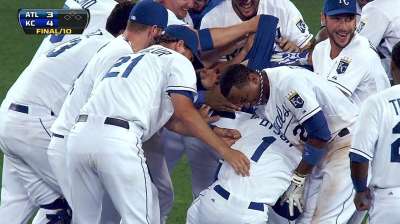 MINNEAPOLIS -- Alex Gordon seems to have awakened from his June swoon. After hitting .329 through May, Gordon went through the first 18 games of June with a .149 (10-for-67) mark with just two doubles and five RBIs.
What did the Royals' left fielder do about that?
"Just not pay attention to it," Gordon said. "You can really get pretty deep with it and try really hard to get out of it and that usually just makes it worse. Just grinding away, keep putting in your work and stay positive. With a game like baseball, you're going to fail a lot of the time, so the best thing you can do is just go out there with a clear head and a positive attitude and know that, in your mind, you're going to get out of it. That's how I approach it."
Saturday against the White Sox, Gordon got a day off except for a last-inning pinch-hit appearance. Apparently refreshed, in the next three games he went 6-for-13 with a homer and four RBIs, including the game-winning single in the 10-inning, 4-3 win on Wednesday night over the Braves.
A left-handed batter, Gordon's two singles in that game were to left field (the home run went to right), but there's no conscious effort on his part to go to the opposite field while he's slumping.
"Not really. If a pitcher is going to pitch you outside, obviously that's your approach, to try to go away," Gordon said. "But I just try to hit the ball where it's pitched and try to drive the ball, which I really think I haven't been doing too much this year, so I'm trying to get back to that. Obviously trying to get on base as a leadoff hitter, but also trying to drive the ball."
Gordon has seven home runs this year, half his total in 2012, and that's the most on a club that through Wednesday had just 42 -- lowest total in the Majors (Baltimore was first with 108). Obviously home runs are not the Royals' thing.
"Yes, we'd like to hit more home runs. I'm not making excuses, but our ballpark is not meant to hit home runs in. Like two days ago, I hit a ball that was gone, but it went to the warning track," he said. "With our ballpark, it's typical to hit line drives into the gap and let the home runs just turn into home runs.
"It's a different approach at Kauffman Stadium. We want to hit more home runs, but it'll come. [Eric] Hosmer is starting to heat up and driving the ball really well and Moose [Mike Moustakas] is starting to hit the ball really good, so I feel like the home runs are going to come. We can't really force it."
The season-long lament by the Royals is that their offense really hasn't kicked in yet to fully complement the strong pitching. The Royals lead the American League a 3.51 ERA, but are third to last in runs scored with 292.
"We have a pretty decent record and I feel like our offense hasn't really played well at all so, hopefully, that's a good sign," Gordon said.
Dick Kaegel is a reporter for MLB.com. This story was not subject to the approval of Major League Baseball or its clubs.