Shields, Kansas' Self helping out foster kids
Shields, Kansas' Self helping out foster kids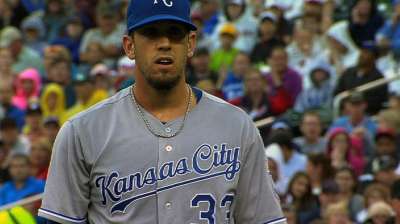 KANSAS CITY -- Royals right-hander James Shields and University of Kansas basketball coach Bill Self teamed up on Wednesday afternoon to film a public service announcement and raise awareness for KVC Health Systems, which supports foster families in the community.
"It's a tremendous honor to have coach Self out here helping the foster kids," Shields said. "To be able to have him come over and do a PSA to help out foster care and KVC, it's a great cause. It's the least that we can do as people who people look up to and it's awesome that he got to come out and do this with me."
Shields and his wife, Ryane, started working with foster kids and their families when he was with Tampa Bay through his Big Game James Club, which promoted normalcy and stability for foster children and provided a specially decorated suite for participants to watch Rays games. Ryane started her own photography business and the couple also works with the Heart Gallery, a traveling photo and audio exhibit created to find families for children in foster care. When Shields was traded to the Royals in the offseason, he chose to continue his work, and through Royals Charities he started the Big Game James section which hosts different groups of foster families at Royals games. One of those is KVC.
Self has served as a board member at KVC, giving talks and trying to promote the importance of strong families in the development of young people.
"I don't know if you really grasp it until you actually see how lives are impacted when kids are just given a chance," Self said. "In my profession, I get a chance to see that all the time. You take certain kids out of certain situations and everyone wonders are they a good kid, can they do the work, are they responsible, are they smart enough? You get them in the right situation and they are 10s in all those areas. Just to have kids being around a loving home, there is no limit on what these kids can accomplish, but they just need support and love."
A group of kids joined Shields and Self to film the PSA before batting practice on Wednesday. After their work was finished, the kids got autographs and pictures with the local celebrities.
"Those are two of the powerhouse players in Kansas City sports and the fact that they've taken an interest in KVC and what we do and the kids we work for, it's a pretty cool opportunity for us," said KVC corporate communications coordinator Emily Gairns. "A lot of them have overcome a lot of significant challenges and to have the opportunity to meet two people that I know a lot of them consider personal heroes is just a fun, really exciting day for them."
Dick Kaegel is a reporter for MLB.com. Kathleen Gier is an associate reporter for MLB.com. This story was not subject to the approval of Major League Baseball or its clubs.