Gordon undergoes concussion tests after collision
Gordon undergoes concussion tests after collision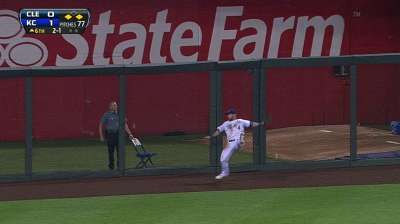 KANSAS CITY -- Left fielder Alex Gordon was undergoing tests on Thursday to determine the severity of a possible concussion resulting from his collision with the fence during Wednesday's game against the Indians.
"He'll be looked at today and all day tomorrow," manager Ned Yost said before Thursday's series finale against the Indians.
There exists the possibility that Gordon could go on the seven-day concussion list, depending on the outcome of the tests. He banged his head on a padded post in front of the Royals' bullpen while chasing a fly ball in the sixth inning of the 6-5 victory and lay on the warning track for several minutes before getting up and leaving the game.
At the minimum, Gordon is expected to be out for a couple of days.
"Even if he's OK, the bruise on his hip is pretty substantial," Yost said. "That's going to take a day or two at least, and maybe even longer. And that's not even knowing where he is on the concussion stuff at the moment."
After Wednesday night's rain-delayed game, Gordon answered reporters' questions in the clubhouse and complained most about his sore hip and backside.
"I've just got a bruise and my butt hurts a little bit, and that's about it," Gordon said.
Bearing in mind the severe problems created by concussions in players such as Corey Koskie and Justin Morneau, Yost said the Royals are approaching Gordon's condition with great caution.
Dick Kaegel is a reporter for MLB.com. Kathleen Gier is an associate reporter for MLB.com. This story was not subject to the approval of Major League Baseball or its clubs.