Gordon doesn't have concussion, is day to day
Gordon doesn't have concussion, is day to day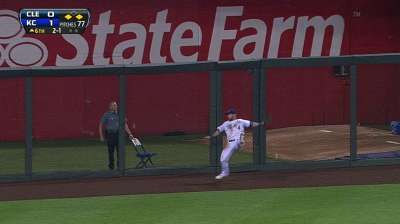 KANSAS CITY -- Left fielder Alex Gordon strolled through the Royals' clubhouse on Friday, stopped in front of his locker and delivered some good news: He has no concussion.
Gordon has been undergoing an assessment since falling against the bullpen fence in pursuit of a fly ball in the sixth inning of Wednesday's 6-5 win against Cleveland. He banged his head against a padded fence post and bruised his hip and rear end in the process.
The result was an inside-the-park home run for the Indians' Jason Kipnis and a series of tests for Gordon, who hasn't played since.
"They said I was cleared to go," Gordon said. "They did all the tests, followed all the rules and they cleared me to go. So I'm just going to get back into action here today and hopefully get things rolling."
So Gordon won't have to go on the seven-day disabled list that Major League Baseball has incorporated for players who sustain a concussion.
While Gordon was planning to take batting practice and play catch, it was unlikely that he'd get into Friday night's game against Oakland.
"I can play today, it's just the bruise on my butt is not feeling too great, so the playing is just day to day right now. I'm not in the lineup today, so we'll see how it feels tomorrow," he said.
Gordon was greatly relieved that no concussion was diagnosed.
"Absolutely. That was the main concern," he said. "Obviously, MLB takes serious action and that's what we did -- we followed all the rules and made sure everything was clear and the doc cleared us."
Gordon was asked if he had any headaches in the aftermath of the injury.
"No, because we've been winning the last two games so I've been good," he said.
Gordon, who usually works at a furious pace, has had to take a break the past couple of days. But now he's eager to get back onto the field and into the lineup. Before the injury, he'd sat out just one game.
"I think every guy in here wants to play every day, so that's kind of how I feel," Gordon said.
Hitting .292, he's tied with Billy Butler for the team lead in RBIs (46) and was the American League leader among qualifiers in two-out hitting at .374 and fourth in batting with runners in scoring position at .381. He's tied with White Sox outfielder Alex Rios for the league lead in outfield assists with eight.
What the Royals have described as a hip contusion is on the same side as the right hip surgery Gordon underwent in 2009.
"Yeah, but it's not my hip that's banged up, it's my derriere, I guess that's the correct way to say it," he said. "It's just the rear end, and it's a pretty bad bruise."
Dick Kaegel is a reporter for MLB.com. Kathleen Gier is an associate reporter for MLB.com. This story was not subject to the approval of Major League Baseball or its clubs.