Escobar to get couple days off from starting lineup
Escobar to get couple days off from starting lineup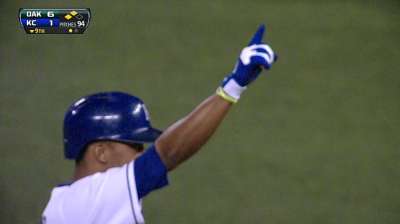 KANSAS CITY -- Shortstop Alcides Escobar is getting a couple days off from the Royals' starting lineup as manager Ned Yost hopes the rest will help invigorate his bat.
Escobar entered Saturday just 2-for-16 in this homestand and his average was down to .247. Backup Elliot Johnson stepped in at shortstop on Saturday against the A's.
"Esky's been grinding and we're playing two hot days, and I've always felt when you're grinding, one day is good for the body, two days is good for the head," Yost said. "He's really been working hard and really been grinding and doesn't have much to show for it. And he looks a little worn down to me now. ... He'll be ready to go by the time we get to New York."
The Royals open a four-game series at Yankee Stadium on Monday night.
The move left a gap in the second slot in the lineup, most often filled by Escobar (63 times), so Yost slid hot-hitting Eric Hosmer up behind leadoff man Alex Gordon with Billy Butler moving up to third and Salvador Perez to the cleanup spot.
"We're just not getting much production out of the two-hole and what we're looking for is somebody that can get on base for Hoz, Billy and Sal," Yost said. "Esky's got like a .280 on-base percentage, even though he's done a nice job lately, picking his spots to get on base and Hoz has been taking advantage of it."
Johnny Giavotella, who was a No. 2 hitter in the Minors, was batting just .176 in his first five games since being recalled so that wasn't an immediate solution either. Yost is anticipating a break will help Escobar, who had a .293 average and a .331 on-base percentage last year.
"You want your best four hitters getting the most at-bats and lining it up this way right now is the way," Yost said. "I think ideally it fits better with Hoz in the three, Billy in the four and Sal in the five."
Dick Kaegel is a reporter for MLB.com. This story was not subject to the approval of Major League Baseball or its clubs.