Davis placed on paternity leave; Joseph debuts
Davis placed on paternity leave; Joseph debuts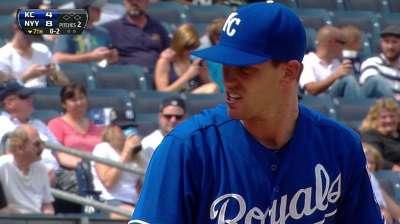 NEW YORK -- Right-hander Wade Davis was placed on paternity leave on Thursday, one day after allowing a career-high-tying eight runs in Wednesday's loss. The club recalled left-handed prospect Donnie Joseph from Triple-A Omaha to take Davis' spot on the roster.
Davis, who wasn't scheduled to pitch again until after the All-Star break, can only remain on the paternity list for up to three days. Therefore, the Royals will need to make another roster move on Sunday.
As for Joseph, the Royals' No. 7-ranked prospect according to MLB.com, he joined the Royals after going 3-3 with three saves and a 3.55 ERA in 31 relief appearances for Omaha. In 10 Spring Training appearances with the Royals this season, he compiled a 1.80 ERA with 14 strikeouts and three walks over 10 innings.
"My impressions were favorable," manager Ned Yost said of Joseph's spring work. "I thought he threw the ball well, and the reports are he's throwing the ball well [in Omaha]."
Drafted by the Reds in the third round of the 2009 First-Year Player Draft and traded to the Royals in the Jonathan Broxton deal last summer, this is Joseph's first stint with a Major League club. He was notified early Wednesday afternoon of the looming promotion and arrived in New York at approximately midnight.
Joseph wasted no time in making his Major League debut, facing three hitters in the seventh inning of Thursday's 8-4 loss to the Yankees. Facing his first career big league hitter, Joseph forced Vernon Wells to line out before walking Lyle Overbay and conceding a base hit to Zoilo Almonte.
"It was exciting. It's a dream come true," Joseph said. "At this point, I'm just glad that it's kind of over with, and I can be focused on going out and pitching and not worry about making a debut or when I'm going to pitch."
For the time being, Yost plans to use Joseph as another option out of the bullpen against left-handed hitters to potentially ease the load on fellow southpaw reliever Tim Collins.
"We're looking for a guy that can come in and get lefties out to help Timmy Collins here for the next four days," Yost said. "So we'll see how it goes."
Paul Casella is a reporter for MLB.com. Follow him on Twitter @paul_casella. This story was not subject to the approval of Major League Baseball or its clubs.