Royals undecided on post-break rotation plan
Royals undecided on post-break rotation plan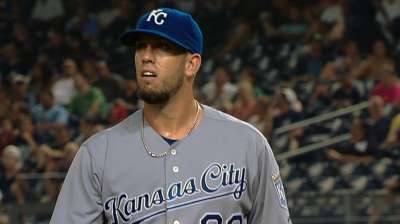 CLEVELAND -- Manager Ned Yost is still mulling over his rotation plans for after the four-day All-Star break, which ends next Friday night for the Royals against Detroit at Kauffman Stadium.
Originally, Yost planned to start the second half of the schedule by starting the same pitcher he's using to close out the first half, James Shields. Now he's not sure.
"I've revised that. I'm still thinking through it," Yost said. "I'm still reviewing it, trying to make sure that we don't leave too many guys with eight, nine or 10 days [between starts], so we're trying to balance it out."
Which means the same pitcher is listed for all of the Royals' games after the break -- old Mr. TBA (to be announced).
Dick Kaegel is a reporter for MLB.com. This story was not subject to the approval of Major League Baseball or its clubs.