Gordon, Perez set for their All-Star adventure
Gordon, Perez set for their All-Star adventure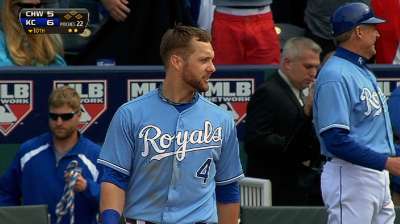 CLEVELAND -- The Royals' All-Star royalty, left fielder Alex Gordon and catcher Salvador Perez, were primed to head to New York and the Midsummer Classic on Sunday.
"I'm ready to go today, after the game -- after we win," Perez said.
The Glass family ownership was providing a plane to whisk the two Royals and two hitch-hikers to the Big Apple.
"The Glasses were very nice to give us a private jet and we invited two Indians to come with us," Gordon said, referring to Indians All-Stars Jason Kipnis and Justin Masterson. "It was very nice of the Glasses to do that for us, so we're very thankful. They've been great since I've been here and you couldn't ask for more. They've been open arms and very congratulatory to me and Salvy."
Both of the Royals players will have family at Citi Field.
"Just my mom. She's coming from Venezuela to New York City," Perez said.
It's a different and bigger story for Gordon, who is from Lincoln, Neb.
"The whole crew is going. I figure the first time you might as well invite everybody you can. It means a lot to you, that's part of your family and you never know if this is going to be your last one," Gordon said.
How many folks will that be?
"It's double digits, I tell you that," he said. "We had to do some scrambling to get some extra tickets."
One family member will be his son Max, who'll be 3 years old in September.
"I'm more fired up to have him there, I think, than he is to come with me but it should be a fun time," Gordon said. "I'm going to have him down on the field with me for the Home Run Derby and everything, so it should be a blast."
Gordon is looking forward to seeing Chris Davis of the Orioles.
"I want to see him hit some towering bombs. Three years ago, we were both in Triple-A together so it's pretty cool," Gordon said. "To do what he's doing now is pretty amazing, so I want to go there and congratulate him and see him hit some home runs."
There are three catchers on the American League squad with the Twins' Joe Mauer starting and Perez and the Astros' Jason Castro in reserve, so who knows if all of them will play.
"You don't know, but I'm ready to do whatever they want me to do," Perez said.
He's at least acquainted with Tigers skipper Jim Leyland, who'll manage the AL squad.
"We talk to him sometimes in batting practice when we go play the Tigers. I don't know him real well," Perez said.
Perez knows one thing for sure as he and Gordon head off to their first All-Star Game.
"I'm very excited. It's going to be fun," he said.
Dick Kaegel is a reporter for MLB.com. This story was not subject to the approval of Major League Baseball or its clubs.