Royals match franchise record on defense
Royals match franchise record on defense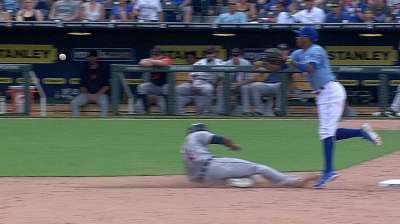 KANSAS CITY -- The Royals had matched a club record Sunday with their 11th straight game without an error before ending that streak Monday against the Orioles. The two previous streaks ran from May 31 to June 11, 1997, and May 10-21, 2011.
The streak covered 101 consecutive innings, just short of the club record of 106, between Jarrod Dyson's error in center field July 6 against Oakland and Mike Moustakas' on Monday.
The Royals have just four errors in July after 47 over the first three months. Moustakas' was the infield's first error since Alcides Escobar committed one July 3 against the Indians.
"It's extremely important that we play good defense," manager Ned Yost said before Monday's game. "Pitching and defense help you win games, but you've got to combine it with some offense, too. We feel that our defense is definitely a strength of our team, and I'm real proud of it."
Dick Kaegel is a reporter for MLB.com. Kathleen Gier is an associate reporter for MLB.com. This story was not subject to the approval of Major League Baseball or its clubs.