Royals players react to Braun's suspension
Royals players react to Braun's suspension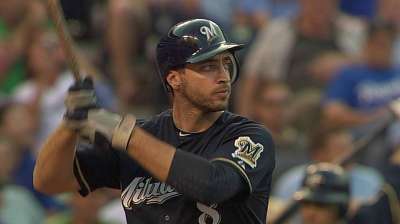 KANSAS CITY -- News spread quickly Monday when Milwaukee Brewers outfielder Ryan Braun was suspended for the rest of the season, and there was little sympathy from the Royals.
"I think there's a few situations where a guy took it and it was tainted with something, and it wasn't knowingly, but in his situation, I think he knew what he was taking," infielder Elliot Johnson said.
"There was a lot of evidence stacking up against him, even more so with the way he's going about it. The Brewers are out of it, he's not making as much money this year, he's making a lot more money next year -- there's a lot of things that played into why he's doing it right now."
Whatever the motivation, Braun accepted the suspension without pay for violations of the Basic Agreement and its Joint Drug Prevention and Treatment Program.
"If guys are doing it, you're glad they're getting caught, because you want to clean up the game as much as possible," reliever Aaron Crow said. "This hopefully deters anyone from trying to do it again."
Whether Braun's is the only suspension this season, time will tell, but for now he is added to the long list of players punished for the use of performance-enhancing drugs.
"You just kind of go with it," center fielder Lorenzo Cain said. "They're serving a suspension, and it does make it tough on guys that don't using any steroids.
"At the same time, I feel for those guys, but that's what happens when you use steroids."
Dick Kaegel is a reporter for MLB.com. Kathleen Gier is an associate reporter for MLB.com. This story was not subject to the approval of Major League Baseball or its clubs.