Brett still carries interim title as hitting coach
Brett still carries interim title as hitting coach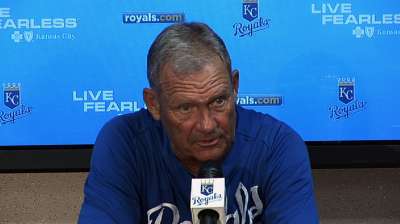 KANSAS CITY -- George Brett is officially the Royals' interim hitting coach, but he's never made it clear just how long his stay might be.
Asked during Tuesday's media session on the eve of the 30th anniversary of the Pine Tar Game if he'd made any decision, Brett replied: "No, not really. I'll have a meeting with [general manager] Dayton [Moore] in the next couple of days and we'll discuss some things."
Brett, in fact, held a lengthy discussion with Moore near the Royals' dugout during an early workout at Kauffman Stadium on Tuesday afternoon.
When Brett and Pedro Grifol became Royals coaches on May 30 at St. Louis, the Hall of Famer indicated that he'd try the job for a month or so and re-evaluate. That month came and went with no change in his status.
Dick Kaegel is a reporter for MLB.com. Kathleen Gier is an associate reporter for MLB.com. This story was not subject to the approval of Major League Baseball or its clubs.