Gordon gets rare break from Royals' lineup
Gordon gets rare break from Royals' lineup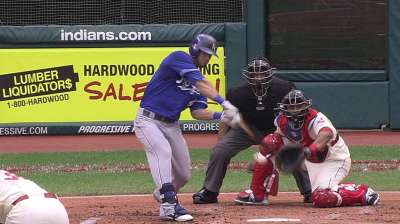 KANSAS CITY -- Left fielder Alex Gordon was out of the Royals' starting lineup for just the fifth time this season on Wednesday night against the Orioles.
Gordon is in a slump, just 2-for-19 (.105) on this homestand with a .211 (12-for-57) average in July.
"You deal with it and try to get out of it," Gordon said. "I've been through it before so I'll do whatever can to get out of it."
Gordon took extra batting practice at Kauffman Stadium on Wednesday afternoon.
"Not the first time," Gordon said.
Oddly enough, on the day that George Brett was brought in as the Royals' interim hitting coach, Gordon was hitting .335. Since then, he's hit just .219 (30-for-137) in 43 games. He brushed off any connection.
"At the end of the day, you're your own ballplayer. It's your career. It has nothing to do with him," Gordon said. "It's me not playing well, not doing my job. That's the bottom line."
Brett joined the club on May 30 along with Pedro Grifol, a special assignments coach.
"We've got George and Pedro, it's not just George. So, we've got two guys that know what they're talking about and like getting in there and getting some work done," Gordon said. "And that's what we've been doing and I've enjoyed it since they've been here. ... It's been all good."
The ripple effect of his day off had David Lough moving from right field to Gordon's left field position and Lorenzo Cain taking Gordon's leadoff spot in the batting order.
"Just a day," Yost said of Gordon's down time. "We're going through that stretch where we've got two days off in 50 and I've got to find ways to give him days off."
Infielder Elliot Johnson replaced Lough in right field because he's a switch-hitter and Yost didn't want a left-handed hitter, Jarrod Dyson, to face Orioles lefty Wei-Yin Chen.
"Elliot's 2-for-3 off the guy, he's seen him before and Elliot's made a couple of adjustments and looks good in batting practice. I've got confidence in him in the outfield," Yost said.
This was Johnson's first outfield start for the Royals. He played one inning in left field on July 4 against Cleveland. For Tampa Bay, he played the outfield seven times.
"Lough plays left good and Elliot is more comfortable in right," Yost said. "Lough's best position, according to our outfield coach [Rusty Kuntz] is left field."
Gordon's busy schedule at the All-Star Game in New York was cited by Yost as a possible factor for the left fielder's recent struggles.
"Sometimes it gets mental, sometimes it gets physical, sometimes you get a little fatigued. I think it's mostly a little fatigue," Yost said. "He didn't get an All-Star break like the rest of them got. The rest got four days, he got one-and-a-half."
Dick Kaegel is a reporter for MLB.com. This story was not subject to the approval of Major League Baseball or its clubs.