Bullpen sports special, Hochevar-designed T-shirts
Bullpen sports special, Hochevar-designed T-shirts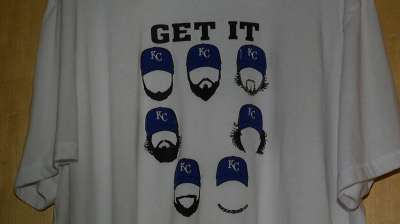 CHICAGO -- The Royals' relief corps has its own line of special attire, designed by member and deep thinker Luke Hochevar.
The relievers have T-shirts that, on the front side, have caricatures based on their distinctive facial or cranial hair styles, with the words, "GET IT." On the back is the image of closer Greg Holland, with the words, "TO THIS GUY."
Hochevar couldn't get the shirts ready in time to promote Holland for an All-Star berth but, not to worry, the closer was picked as a replacement anyway and got in the game with teammates Salvador Perez and Alex Gordon. But the shirts arrived in time for post-All-Star use.
"All the brain hours you have in the bullpen give you time for T-shirt ideas," Hochevar said.
Holland has his own personal T-shirt that reads, "I'M THAT GUY." He declined a request to pose for a photo with the shirt.
"I'm not real comfortable with that," Holland said. "That's not really my style."
Holland, a laid-back guy, prefers to call attention to himself with a hard-as-nails performance on the mound. He's done just that, converting 18 straight save opportunities coming into the Chicago series.
Dick Kaegel is a reporter for MLB.com. This story was not subject to the approval of Major League Baseball or its clubs.