'Good learner' Grifol takes over as hitting coach
'Good learner' Grifol takes over as hitting coach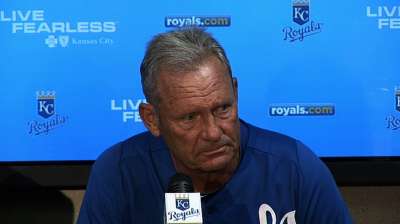 CHICAGO -- Pedro Grifol's assignment as the Royals' hitting coach, succeeding Hall of Famer George Brett, left him pleased and happy.
"I am, but at the same time, I'm sad to see him go," Grifol said. "It's hard for two hitting coaches to click and really think alike and just match. The one common denominator in this game, no matter whether you're a pitcher or whatever, is that everybody here has hit. So everybody has an opinion about hitting and it's almost impossible to have the same opinion and, for the last seven or eight weeks, George and I have been on the same page 99 percent of the time, which is really unbelievable."
Brett stepped down as interim hitting coach on Thursday after nearly two months on the job. Grifol, who came in with Brett as a special assignments coach, is taking over.
Grifol remembered his reaction when he learned of Brett's decision: "Really? I'm having a lot of fun."
He was at full attention when Brett spoke.
"I enjoyed listening to him -- his stories, his knowledge. God gave me two ears and one mouth and, when he was around, believe me, my ears were open and my mouth was shut," Grifol said.
"Every once in a while when he was trying to get something through to one of these kids, he'd pick up a bat and show 'em. And every time he did, it's still there. It's not the same speed, but it's still there."
Grifol, 43, ended 13 years in the Mariners' organization in 2012 to join the Royals and he was coaching young players at Surprise, Ariz. It was an ideal job, close to his Phoenix home, his wife Ali, and his three daughters Lauren, 18; Amanda, 15, and Camila, 5. Then, on May 30, came word that he was needed at the Major League level.
For the Seattle organization, he'd been a scout, a Minor League manager at Everett, Wash., a field coordinator and farm director. Last year, though, he came out of the office to manage again at Class A High Desert. He also managed a winter ball team in Venezuela.
"I don't mind the office, but I'm not enthused about it. This is my passion, this is what I like to do. I like communicating, just teaching and competing," Grifol said.
Grifol, a sixth-round Draft choice of the Twins in 1991, was a Minor League catcher for nine years. He also played in the Mets' organization.
"Most of my career was at Double-A and Triple-A. I came out of a good program at Florida State, so I almost missed A ball," Grifol said.
His scouting report on himself was that he did well defensively, priding himself on calling a game and handling pitchers well.
"On the offensive side, that was a little tougher for me. I didn't run well so I couldn't leg out many hits," Grifol said. "It was just one of those things that it was a little tougher for me."
In 652 Minor League games, Grifol hit .226 with 39 home runs.
"Defense was my thing. Offense didn't come so easy. And now I'm a big league hitting coach," Grifol said.
Grifol picked up a lot of knowledge along the way as a player, manager, coach and executive.
"I'm a good listener, a good learner," Grifol said.
Dick Kaegel is a reporter for MLB.com. This story was not subject to the approval of Major League Baseball or its clubs.