Lough continues to wield productive bat
Lough continues to wield productive bat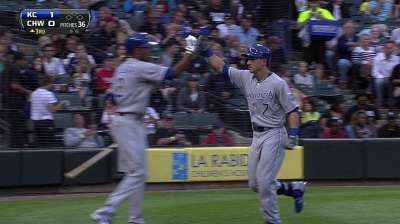 CHICAGO -- Right fielder David Lough's success continues to relieve any concern the Royals had over finding a productive bat in that position.
Lough lined a home run and singled with two RBIs in Friday night's 5-1 win over the White Sox, bringing his average up to .304 in his 55 games. That also made the left-handed hitter 15-for-40 in an 11-game span for a .375 average.
"He's been real consistent since the first day he got here," manager Ned Yost said. "He's been consistent against both right-handed [.299] and left-handed pitching [.325], and [he's] done a nice job in the outfield. He's played really well."
Lough was called up from Triple-A Omaha on May 17 after Jarrod Dyson was injured at Anaheim. At 27, Lough was in his fourth straight season at Omaha, so he was looking for a break.
"It's a long time," Lough said. "I just waited for my opportunity, just being down there and not letting it get to me mentally. I always thought I had the ability to play up here at the big league level. It was just a matter of time and getting my opportunity to play.
"Baseball is not an easy game to play. There are ups and downs. I'm on the up now, and I hope I can stay there and be as consistent as I possibly can to help this team win."
Lough got a 20-game taste of the Majors last September, but he started this season with Omaha and hit .338 in 37 games.
"He still has a lot of upside -- room to grow and get better in a lot of phases of his game," Yost said. "But what was important was that he was given an opportunity and he took advantage of it, which is what you want to do."
Lough has been a solid performer as he replaced Jeff Francoeur, cut loose on June 30. So there's been no burning need to come up with somebody else before the Trade Deadline.
"It's got to be a pretty significant upgrade," Yost said.
Meantime, the guy they call D-Lo keeps on the go.
"I just kind of go with the way I know how to play this game," Lough said. "I play it hard."
Dick Kaegel is a reporter for MLB.com. This story was not subject to the approval of Major League Baseball or its clubs.