Royals reap overtime rewards with homers
Royals reap overtime rewards with homers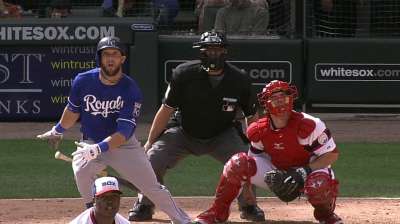 MINNEAPOLIS -- Working overtime has paid off big for the Royals this year. When they beat the White Sox in 12 innings on Sunday, their extra-inning record improved to 7-1.
Home runs played a significant role in three of those victories. Alex Gordon's two-run homer provided the 4-2 victory on Sunday at Chicago. And it was Gordon whose grand slam provided the last four runs in the 10th inning of an 8-3 win on April 25 at Detroit.
Lorenzo Cain's two-out, two-run homer in the ninth inning on June 12 against the Tigers sent the game into extra innings and the Royals won in the 10th, 3-2, at Kansas City.
Gordon's blast on Sunday came as he was battling a 4-for-36 skid and, after the game, he was asked if that blow could be a slump-buster.
"Who cares? We won the game," Gordon said. "One hit is fine with me as long as we won the game."
Dick Kaegel is a reporter for MLB.com. This story was not subject to the approval of Major League Baseball or its clubs.