Cain, Getz get extra day to rest leg injuries
Cain, Getz get extra day to rest leg injuries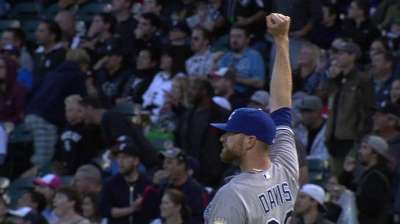 MINNEAPOLIS -- Royals manager Ned Yost decided to buy some more time with the leg injuries of second baseman Chris Getz and center fielder Lorenzo Cain, keeping them out of the starting lineup on Tuesday night against the Twins.
Getz has a sore left knee, result of twisting it trying to field a ground ball in the outfield grass by the Tigers' Prince Fielder on July 20 and then getting banged by the White Sox's sliding Adam Dunn at second base a week later on Saturday.
"He slipped in the outfield, then he got crushed by Adam Dunn breaking up the double play," Yost said.
Getz started four games between the two incidents.
"It was a rough, rough week for the left knee," Getz said. "It's feeling better now. Obviously having the day off yesterday helped get a lot of the inflammation out so we're kind of day to day, but we've progressed so far."
Dunn got him in the ninth inning of Saturday's 1-0 victory at Chicago.
"He pretty much put me in the outfield," Getz said. "It happens. It's part of the job turning a double play."
Cain banged up his left groin, also in Saturday's game, crashing into the center-field wall at Chicago as he caught a deep drive. Cain had a similar injury early in 2012 at Oakland, keeping him out for a long period, so the Royals are being cautious.
"He feels absolutely nothin' doing nothin', which is good," Yost said. "Now, I want to get him out and have him run around a little bit. We've got the benefit of an extra day which we can give him with [Jarrod] Dyson and [David] Lough. If he feels nothing, he can pinch-hit later in the game, go in and play defense or whatever, and be back in there tomorrow."
Dyson played center field and Lough was in right field. Miguel Tejada took Getz's spot at second base.
Dick Kaegel is a reporter for MLB.com. This story was not subject to the approval of Major League Baseball or its clubs.