Pitching key ingredient in Royals' hot streak
Pitching key ingredient in Royals' hot streak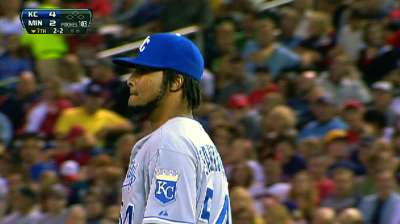 MINNEAPOLIS -- During the Royals' season-best seven-game winning streak through Tuesday night, the most significant statistics centered on the pitching staff.
In those seven games, the staff gave up just nine earned runs in 66 innings for a 1.23 ERA, best in the Majors for that period. Next was Pittsburgh's 2.23 ERA. Opponents hit just .199 against the Royals.
The starting pitchers had a 5-0 record and 1.33 ERA in the seven games and the bullpen was 2-0 with a 0.96 ERA.
The hitters? Not too shabby either. The team average was .273 with an on-base percentage of .323. The Royals scored 31 runs with 18 extra-base hits including seven homers.
Dick Kaegel is a reporter for MLB.com. This story was not subject to the approval of Major League Baseball or its clubs.