Butler playing with mysterious neck stiffness
Butler playing with mysterious neck stiffness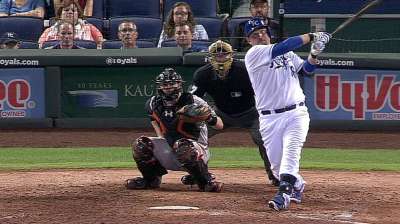 MINNEAPOLIS -- Billy Butler is dealing with a stiff neck but has stayed in the lineup as the Royals' designated hitter.
Butler said the condition was not due to a game-related incident and the cause is a mystery.
"I can't really tell you anything. It's not from anything, it's just not moving very well," Butler said.
In Tuesday night's 7-2 victory, Butler went 0-for-5 to end his personal 18-game hitting streak against the Twins. In those 18 games, he hit .457 (32-for-70).
"I couldn't quite get turned to the pitcher last night," he said. "It's not feeling very good."
Dick Kaegel is a reporter for MLB.com. This story was not subject to the approval of Major League Baseball or its clubs.