Perez shows cat-like reflexes behind the plate
Perez shows cat-like reflexes behind the plate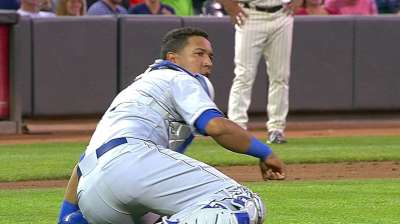 MINNEAPOLIS -- Royals catcher Salvador Perez wasn't really surprised by Aaron Hicks' bunt in the Twins' fifth inning on Wednesday night.
"You have to be ready for it every at-bat," Perez said. "Always."
The 6-foot-3, 245-pound Perez wowed everyone by springing from behind the plate, pouncing on Hicks' bunt down the third-base line and nailing him with a laser throw. He moved like a big cat.
"El Gato Grande," he said, laughing.
As good a name as any for the All-Star catcher.
Dick Kaegel is a reporter for MLB.com. This story was not subject to the approval of Major League Baseball or its clubs.