Maxwell thrilled to join red-hot Royals
Maxwell thrilled to join red-hot Royals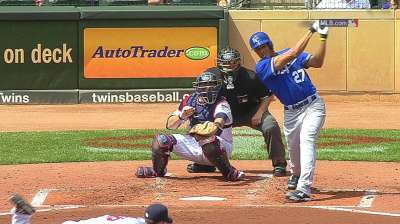 MINNEAPOLIS -- Justin Maxwell was heading for Camden Yards from his home near Baltimore on Wednesday, figuring on playing for the Astros against the Orioles. That's when he got the call that he'd been traded to the Royals.
"That was the last thing on my mind. I was thinking of that night's game, so I was definitely really surprised. But I'm really happy to be here," Maxwell said.
Instead of playing for Houston, he flew to Minneapolis and got to Target Field in time to see Greg Holland close out a 4-3 victory over the Twins. On Thursday morning, he was in the clubhouse getting his new uniform (No. 27) and seeing his name in the starting lineup posted on the bulletin board (batting eighth and playing right field).
Maxwell seemed pleased to be joining a red-hot Kansas City club, and he helped keep it hot with an RBI single in his first at-bat of Thursday's 7-2 win that extended the Royals' winning streak to nine.
"Just playing against the Royals, the few times I had a chance, I just looked over in the dugout and saw how much fun those guys were having," Maxwell said. "I'm a baseball fan, so I watch a lot of baseball. I keep in touch with what's going on in the baseball world. I see all the energy this team has, and I'm excited to be part of it."
At 6-foot-5, 220 pounds, befitting his military family background, Maxwell said he was healthy, which wasn't the case earlier this season.
"I had a really rough first half. Broke my hand, had a concussion diving for a ball. So it didn't go the way I planned it when you make goals for the season," he said. "But my goal now is to try to finish strong and help this team win."
While rehabbing with Double-A Corpus Christi for his hand injury, Maxwell was hit with food poisoning.
"It was awful," he said. "One game, I remember I played and I was sick as a dog. I tried to tough it out, tried to get some at-bats, but it definitely wasn't worth it."
Maxwell was asked to provide a scouting report on himself.
"You're only as strong as you think you are, so I think I'm the best player ever. I always tell that to my wife, regardless of what happens," Maxwell said.
"But I play great defense, I pride myself in that. My college coach told me that defense never slumps, so I try to take that into consideration every time I get between the lines. From a hitter's standpoint, I have some pop, and I'm trying to learn to hit for average. But I think the main thing that separates the great players from the average Major League player is consistency, so I'm trying to find consistency within myself, and the only way to do that is to stay on the field."
Maxwell, 29, was obtained in a trade for right-hander Kyle Smith, a 20-year-old Minor Leaguer. Maxwell played for the Nationals before being obtained by the Astros. It's another new beginning for him.
"It kind of feels like Opening Day again," he said.
Dick Kaegel is a reporter for MLB.com. This story was not subject to the approval of Major League Baseball or its clubs.