Yost stacks KC lineup with lefties in opener
Yost stacks KC lineup with lefties in opener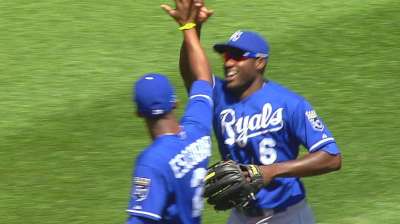 NEW YORK -- Center fielder Lorenzo Cain was out of the Royals' lineup on Friday night against the Mets, but not because of any recurrence of injury.
It's because Cain bats right-handed, and manager Ned Yost wanted to get as many left-handed hitters in his lineup as possible against right-hander Dillon Gee.
Left-handed batters hit .316 against Gee entering Friday, compared to .240 by lefties, so Yost used six left-handed batters, including outfielders Alex Gordon, Jarrod Dyson and David Lough. The only right-handed batters in the lineup, other than pitcher Wade Davis, were Salvador Perez and Alcides Escobar. Escobar was one of the few Royals who had faced Gee before, going 2-for-3 against him.
Cain, back in the lineup on Thursday after missing three games with a groin ailment, was feeling fine 24 hours after playing the entire 7-2 win at Minnesota.
"I played the full game yesterday and felt great, ran great," Cain said. "I thought I would wake up with some soreness today but I didn't so that was huge. I got my treatment again this morning, got it going and I'm ready to go."
Also out of the lineup was right-handed-hitting newcomer Justin Maxwell, who made his debut in right field on Thursday after being obtained from the Astros.
"He's got some ability," Yost said. "We've just got to harness it and continue to help it grow. He was hitting some balls in the second deck out there in early BP."
Dick Kaegel is a reporter for MLB.com. This story was not subject to the approval of Major League Baseball or its clubs.