Paulino on track with his rehab schedule
Paulino on track with his rehab schedule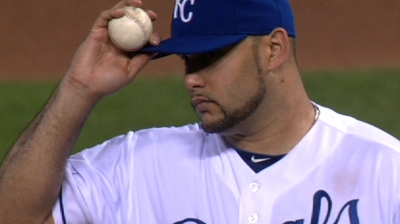 KANSAS CITY -- Right-hander Felipe Paulino was back in the Royals' clubhouse on Saturday for some additional work with trainers following his Thursday rehab start with Triple-A Omaha.
"He's doing great," manager Ned Yost said. "I look at the reports and the reports were all positive. Good velocity, throwing the ball fine. That's a natural case. They'll go down, throw their rehab and come back with the trainers who will monitor and work on them. He's upbeat, he feels good, he's moving right along."
Paulino, who is recovering from Tommy John surgery performed in July 2012, allowed four runs (two earned) on five hits and a walk with four strikeouts in Omaha's 6-4 loss to Sacramento. He threw 62 pitches -- 46 strikes.
"I've been feeling pretty good," Paulino said. "I liked how I woke up yesterday and I feel a lot better today. I am throwing a bullpen today just to prepare for my next start by Tuesday."
Paulino began his rehab assignment on June 11, but was sidetracked by lower back and shoulder stiffness.
"I've been fighting for this the last couple months," Paulino said. "Now, it's just following my schedule and trying to keep my dates, and hopefully I will be back soon."
Kathleen Gier is an associate reporter for MLB.com. This story was not subject to the approval of Major League Baseball or its clubs.