Newly acquired Carroll dons Royals uniform
Newly acquired Carroll dons Royals uniform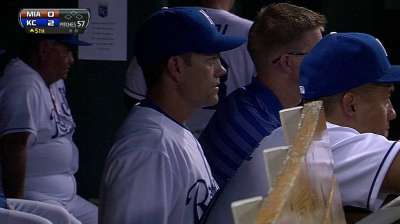 KANSAS CITY -- Less than a week after visiting Kauffman Stadium with the Twins, Jamey Carroll is in a Royals uniform, though he was not in the starting lineup on Monday night against the Marlins.
He entered the game in the fifth as a pinch-hitter for Mike Moustakas, who left the game with calf tightness, and Carroll remained in the game at third base -- going 0-for-2 at the plate in the Royals' 6-2 win.
Carroll was acquired from the Twins on Sunday in exchange for cash considerations or a player to be named. He was added to the roster on Monday along with second baseman Chris Getz, who was activated from the 15-day disabled list after missing time with a left knee strain. In corresponding roster moves, infielder Irving Falu and left-handed reliever Will Smith were optioned to Triple-A Omaha.
"It obviously came as a shock to me yesterday," Carroll said. "You never know, especially this time of year, what is going to happen. I was kind of caught off-guard, but at the same time, I'm excited about it, to have the opportunity to come to a team that's playing as well as they are and in the mix of having a chance to play after the season is over. That's all you ask for, that's all you want a chance to do."
Carroll, a 39-year-old veteran, is batting .230 with six doubles, 20 runs and a pair of stolen bases in 58 games. Carroll is batting .325 with a .372 on-base percentage against left-handed pitchers this season and .295 against them in his career.
"We liked his versatility," manager Ned Yost said. "He can play second, he can play third, he can play short. He's a very situational hitter. He's a guy we are even thinking about putting in the leadoff spot against left-handed pitchers. He's got a real high on-base percentage, hits lefties really well. He fits nicely and complements our club."
Carroll will likely split time with Getz at second base, in addition to taking shifts at third base and shortstop to give Mike Moustakas and Alcides Escobar days off.
"We'll use it kind of as a platoon situation. There will be days where Jamey will play against certain right-handers, you just go day to day and match it up," Yost said. "They are both very solid, not flashy players, but they do a lot of things that go unnoticed that help you win baseball games."
Carroll said he hopes to bring some experience to the roster after 11 years in the Major Leagues. He started his career with the Montreal Expos and spent five years with the Washington organization before short stints with the Rockies, Indians and Dodgers. He also said his age shouldn't be a concern as he's feeling as good as he has in years.
"When I was 38, nobody said anything, but then I turned 39, and now it's become an age issue," Carroll said. "I feel just as good as I have for the last however many years. The situation over there just dictated a different circumstance. Hopefully, I get the chance to add whatever I can, whatever the situation is. If I only play half the games here and we win, that's fine too."
After two seasons across the American League with the Twins, Carroll said he's not surprised at all by the run the Royals are on -- winning 18 of 23 since the All-Star break prior to Monday's series opener with the Marlins.
"You look at the pitching staff. In this game, that's where it starts and this pitching staff is a very strong pitching staff," Carroll said. "It was a matter of time on the offensive side for some of these guys to get some confidence and start to play. It looks like they have a lot of confidence right now and that goes a long way in this game."
The acquisition of Carroll at this stage of the season signals that the Royals believe that a playoff spot is within striking distance.
"We want to push all the way to the end," general manager Dayton Moore said. "Absolutely."
Dick Kaegel is a reporter for MLB.com. Kathleen Gier is an associate reporter for MLB.com. This story was not subject to the approval of Major League Baseball or its clubs.