Yost favors MLB's expanded replay proposal
Yost favors MLB's expanded replay proposal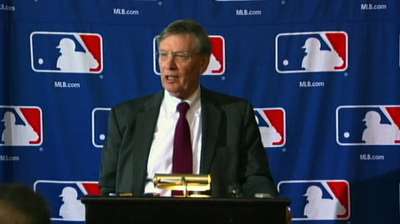 DETROIT -- The new proposal for expanded instant replay is getting a thumbs-up from Royals manager Ned Yost.
"I like it, I do like it," Yost said. "It's interesting, I haven't much time to delve into it, but I do like it."
The idea of having three managerial challenges to umpires' decisions during a game should be more than adequate.
"That's more than we need. I'm sitting back thinking, probably in the last two weeks or three weeks, I can't think of three calls I would have challenged. But it's still nice to have that ability to do it," Yost said.
"If you use three challenges in one day, somebody's having a bad day."
One time-honored tradition, managers' arguments with the umps, seems certain to be drastically reduced under this plan.
"I don't know the system for it," Yost said. "I don't know if you have to run out and say, 'I challenge this play.' There won't be any more arguing. And I like that. I like the fact that I don't have to argue with umpires because I'm not a good arguer to being with. I lose my mind, I start using bad language and you don't get anywhere."
Dick Kaegel is a reporter for MLB.com. This story was not subject to the approval of Major League Baseball or its clubs.