Moose 'ready to play' as pinch-hitter if needed
Moose 'ready to play' as pinch-hitter if needed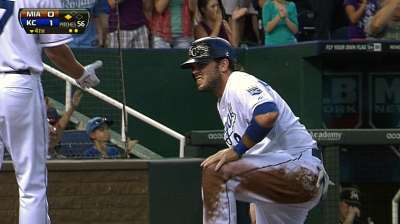 DETROIT -- Third baseman Mike Moustakas, out with a calf injury, has recovered to the point he could be used as a pinch-hitter if needed.
"It feels good," Moustakas said before Friday's doubleheader. "I'm going to go out today and take some ground balls in case [manager Ned Yost] needs me. I always try to be ready to play."
Moustakas came out of Monday's game with tightness in his left calf. By Thursday, he was throwing and hitting in the batting cage but not running.
"But playing the game is a lot different than just taking ground balls and taking swings in the cage. They're doing a great job with me, they're taking it at a right pace," Moustakas said. "I feel good, I feel happy where I'm at right now."
Dick Kaegel is a reporter for MLB.com. This story was not subject to the approval of Major League Baseball or its clubs.