Paulino looks to ramp up next rehab start
Paulino looks to ramp up next rehab start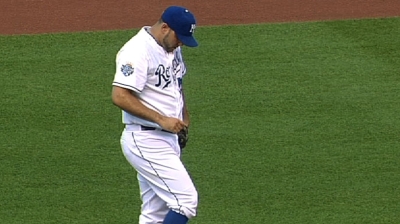 DETROIT -- Royals right-hander Felipe Paulino plans to make his next rehab start for Triple-A Omaha on Sunday at Memphis.
Paulino pitched 3 1/3 innings on Tuesday for Omaha, giving up five runs on eight hits and two walks to Fresno.
"There's no more soreness after the games," Paulino said after returning to Kansas City. "And the good thing about this is my arm is making a good recovery. I've been having a good recovery the last couple of weeks, and I have no doubt I'm going to have a good recovery this time."
Paulino's return from Tommy John surgery on July 3, 2012, has been delayed by back and shoulder problems, but his repaired right elbow has been sound. He threw 75 pitches on Tuesday and plans to boost that to 95 pitches on Sunday.
"I had a rough night, but my stuff was good," he said of his last start. "My next start has to be better, because I'm going to jump to 95 pitches. And now I can work at my own pace and not have to worry about a pitch count."
Dick Kaegel is a reporter for MLB.com. This story was not subject to the approval of Major League Baseball or its clubs.