Moustakas returns to lineup with left calf better
Moustakas returns to lineup with left calf better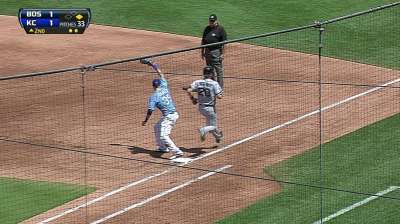 DETROIT -- Mike Moustakas is back.
Moustakas, after missing five games because of a tight left calf, was at third base and batted sixth for the Royals in Saturday night's 6-5 loss to the Tigers.
"I'm real anxious," Moustakas said before the game. "I'm ready to get back in the lineup and play some baseball again."
He played for the first six innings and went 2-for-3 with an infield hit and a looping single to right field. He also struck out.
In the sixth inning, after the Tigers had put left-handed reliever Drew Smyly into the game, manager Ned Yost sent right-handed-batter Jamey Carroll out to pinch-hit for lefty Moustakas.
"He was fine, but his leg was starting to tire a little bit," Yost said. "He didn't hurt it anymore, but when you're at about 80 percent, your strength level is lower and it was starting to get a little sore."
Carroll finished the game at third base.
Moustakas, injured while running the bases on Monday night, is hitting .306 with 13 RBIs after the All-Star break and has played an important role in the team's vastly improved record.
In the days immediately following the injury, there was concern that Moustakas might have to go on the 15-day disabled list.
"He did really good," Yost said. "We didn't know. That's why we waited to see if he could recover quick. But I watched him take swings in the cage. He looks normal. He looked great on ground balls, he did some agility stuff."
Meantime, center fielder Lorenzo Cain remained in Kansas City while on the DL with a pulled oblique muscle. He's eligible for reinstatement in a week, but that's an injury that's usually slow in healing.
Newly acquired Emilio Bonifacio started in center field for the second straight game. He had filled in for Moustakas at third base in the first two games at Detroit.
Dick Kaegel is a reporter for MLB.com. This story was not subject to the approval of Major League Baseball or its clubs.