KC opts not to push Moustakas before off-day
KC opts not to push Moustakas before off-day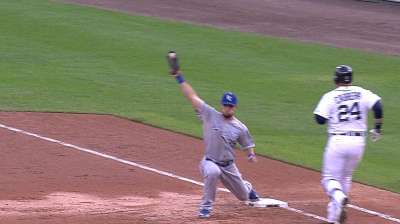 DETROIT -- In the starting lineup one day, out the next. That's the fate of third baseman Mike Moustakas as he continues to come back from a left calf injury.
After missing five games, Moustakas started Saturday's 6-5 loss to the Tigers but was pulled after six innings as the calf started getting sore and he went back under the care of Royals head trainer Nick Kenney.
"I talked to Nick and he's fine. He didn't do anything to it," manager Ned Yost said.
Even so, Moustakas was not in the starting lineup for Sunday's series finale.
"He's at 75 percent, and because the muscles are weakened, it starts to get fatigued and a little bit sore as the game goes on. It was starting to get a little bit sore and we got him out," Yost said. "Because of that, with an off-day tomorrow, it doesn't make any sense to try to push him through it right now."
As fate would have it, Moustakas' calf was put to the test on Saturday night. Among other things, he had to run out an infield hit in his first at-bat and then was caught in a rundown between second base and third. After a second single, there was more baserunning. He also was sent lunging to his right to knock down a ball hit by Miguel Cabrera (Moustakas got the out at first, as Cabrera is also slowed by leg injuries.)
Another factor in sitting Moustakas was that it was short rest with a day game following a night game.
"That was another reason for it. And an off-day tomorrow, and Chicago coming to town and a lefty [John Danks ] going the first day, we'll give him a couple more days," Yost said. "We probably won't play him [Tuesday night]. I've got [Emilio] Bonifacio and [Jamey] Carroll that are doing a nice job, and we'll have [Justin] Maxwell back, which will help."
Outfielder Maxwell is on bereavement leave following the death of his grandmother.
Dick Kaegel is a reporter for MLB.com. This story was not subject to the approval of Major League Baseball or its clubs.