Mariners-Royals series coming late in season
Mariners-Royals series coming late in season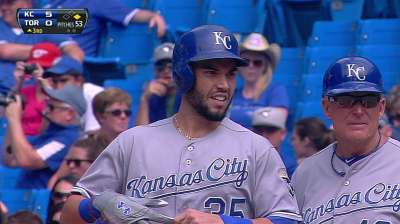 KANSAS CITY -- It's not often that two teams meet for the first time in September, but this season that's the case for the Royals and Mariners.
After their four-game series in Kansas City, the Royals and Mariners will meet in Seattle for three games starting Sept. 23.
"It's definitely odd, but with the new Interleague schedule and all that, I guess teams have to do that," first baseman Eric Hosmer said. "We see these guys in Spring Training a lot, so it's not completely new."
This is the latest that Seattle has met an American League opponent for the first time, discounting the strike-interrupted 1981 season. Previously, the latest they'd faced an AL team was Aug. 17, 2004, when they also faced the Mariners.
Dick Kaegel is a reporter for MLB.com. Kathleen Gier is an associate reporter for MLB.com. This story was not subject to the approval of Major League Baseball or its clubs.