Paulino shut down for season due to shoulder issue
Paulino shut down for season due to shoulder issue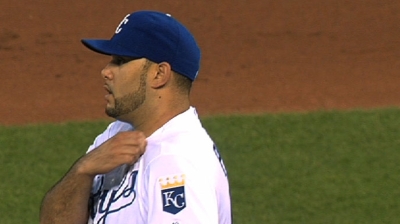 KANSAS CITY -- Royals right-hander Felipe Paulino's season is over following another setback in his rehabilitation.
While recovering from last season's Tommy John surgery, Paulino has battled shoulder and back stiffness. Now, it's shoulder inflammation.
"His shoulder got inflamed again, and there's not enough time left," manager Ned Yost said. "He'll be fine. He just had some shoulder inflammation. It's just a little setback, it doesn't have anything to do with his elbow."
Paulino started two rehabilitation games in Double-A Northwest Arkansas before returning to Kansas City to meet with doctors because he was experiencing back stiffness. While he was in Kansas City, he was also treated for shoulder stiffness, but started five games with Triple-A Omaha in August, going 0-3 with an 8.10 ERA.
"It's been a long rehab," Paulino said. "I've been working on my elbow, and my elbow's fine. I'm happy with my elbow, but my shoulder is the thing right now. I've got bad inflammation there, and the only way to get it down is to shut it down completely."
Paulino said he'd been fighting the pain in his shoulder for a couple days before the team decided to shut him down.
"It's tough," Paulino said. "Before I tried to say that I would be OK, and I just tried to make it by myself and tried to be positive that everything was going to change sometime, but unfortunately it didn't get better."
He is hoping to start pitching again this November and playing winter ball in Venezuela.
"I feel bad for myself and I feel bad for the team, because I pushed myself to help and show everybody I could be back, but I can't right now. I have to listen to my body, and my body told me I can't go right now," Paulino said. "I'm hungry to pitch. I want to pitch, and that is my goal right now."
Dick Kaegel is a reporter for MLB.com. Kathleen Gier is an associate reporter for MLB.com. This story was not subject to the approval of Major League Baseball or its clubs.