Giavotella will be infielder in return to Royals
Giavotella will be infielder in return to Royals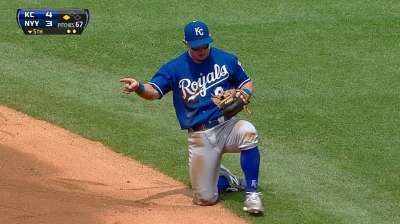 KANSAS CITY -- Second baseman Johnny Giavotella spent his last couple of weeks with Triple-A Omaha playing in the outfield, but Royals manager Ned Yost said on Tuesday that Giavotella will shift back to the infield.
"I'm not exactly sure how they're going to use me, but whatever they ask, I'm going to do it to the best of my ability and come out here and help the team any way I can," Giavotella said.
Giavotella spent two weeks with the Royals in July and played in 10 games -- batting .206 with four RBIs. He was slowed by a hip flexor injury at Omaha, but played in 100 games and hit .286 with seven homers and 46 RBIs.
He's spent parts of each of the last three seasons with the Royals -- batting .239 with three homers and 43 RBIs in 109 games.
"All these guys are my friends," Giavotella said. "I've been playing with them for a few years now so I'm always encouraging them, rooting for them and hoping for the best for them."
Dick Kaegel is a reporter for MLB.com. Kathleen Gier is an associate reporter for MLB.com. This story was not subject to the approval of Major League Baseball or its clubs.