Joseph gives Royals fourth southpaw in 'pen
Joseph gives Royals fourth southpaw in 'pen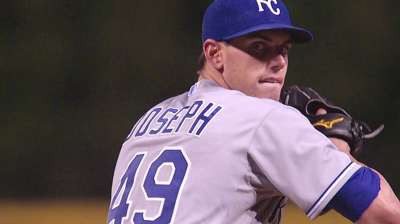 KANSAS CITY -- Left-hander Donnie Joseph has been watching the Royals' success from a distance, but after being recalled from Triple-A Omaha on Tuesday, he's making his third stint in the American League's top bullpen.
Entering Tuesday's game against the Mariners, the Royals' bullpen led the AL with a 2.51 ERA and had surrendered just one run in 20 2/3 innings for a 0.44 ERA. They've also held opponents to a 0.87 batting average (6-for-69) with 30 strikeouts.
"They're lights out, they're unbelievable. That's why they're in the position they are because the bullpen is so good," Joseph said. "I hope I can come and help out in any way possible."
Joseph is the 11th pitcher in the bullpen and fourth lefty -- joining Francisley Bueno, Tim Collins and Will Smith.
"I think the biggest benefit that we have now is four lefties in the 'pen," manager Ned Yost said. "Will Smith gives you length. Bueno and Timmy Collins can get give two innings max and Donnie Joseph is probably going to be a situational-type guy. A guy that can come in and get you a big out when you need it. So, we can mix-and-match down there now a lot better than when you just have a conventional bullpen."
Joseph had appeared in three games for the Royals this season, giving up four walks and two hits in 3 1/3 scoreless innings. He played in 47 games for Omaha, going 4-3 with a 3.95 ERA. The lefty had six saves and 84 strikeouts in 54 2/3 innings.
Dick Kaegel is a reporter for MLB.com. Kathleen Gier is an associate reporter for MLB.com. This story was not subject to the approval of Major League Baseball or its clubs.