Hochevar holding up splendidly in relief role
Hochevar holding up splendidly in relief role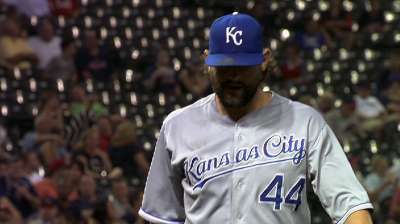 CLEVELAND -- When Luke Hochevar reached the mound in the seventh inning of Tuesday's game, there was one out and Michael Bourn was standing on second base, fresh off a two-run double that had trimmed Kansas City's lead to two runs.
The tide seemed to be turning Cleveland's way, and to halt the momentum shift before it got out of hand, Hochevar had to go through Nick Swisher and Jason Kipnis, the Indians' Nos. 2 and 3 hitters. Hochevar struck both out, stranding Bourn at second and keeping Kansas City's advantage intact. He stuck around for the eighth inning, punching out the side and lowering his ERA to 1.70.
One year after leading baseball in earned runs as a starter, Hochevar is one of the game's most effective relievers. The Royals moved him to the bullpen before the start of the season, and his performance has improved dramatically, just as they hoped it would.
"We kind of figured that that would be the case," Kansas City manager Ned Yost said. "You put him into the bullpen, where he could get a little more on the attack, refine his pitches, because we always knew he was a great competitor. He could just never get a solid foothold on having his production match his ability."
Hochevar, the first overall pick from the 2006 First-Year Player Draft, is 38-59 with a 5.44 ERA across 128 career starts. In 55 relief outings, 51 of which have come this season, he is 4-2 with a 1.89 ERA.
As a starter, Hochevar's career numbers include a 1.41 WHIP, 6.2 strikeouts per nine innings and a 2.06 strikeout-to-walk ratio. Across his relief appearances, he has a 0.89 WHIP, 9.3 strikeouts per nine innings and a 4.16 strikeout-to-walk ratio.
"It really doesn't matter whether I'm starting or relieving," Hochevar said. "My job is to take the ball and go get outs and do what I can to help this club. That's really kind of the mentality that I've taken. It's not too complicated, just go out and execute quality pitches and try to get quick outs as efficient as possible."
Hochevar picked up his sixth hold of the year in Tuesday's win. Across 63 2/3 innings entering Wednesday's action, he had 72 strikeouts against 16 walks. And he's been an equal-opportunity menace on the mound, holding right-handed hitters to a .132 average and left-handed hitters to a .188 average.
"We just thought that it would be a perfect scenario to put Luke in and let him get after it," Yost said. "And, boy, he sure has."
Mark Emery is an associate reporter for MLB.com. This story was not subject to the approval of Major League Baseball or its clubs.