Lough credits Grifol for approach as pinch-hitter
Lough credits Grifol for approach as pinch-hitter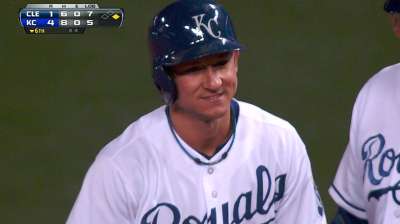 KANSAS CITY -- Outfielder David Lough had not been very successful as a pinch-hitter until, batting for Justin Maxwell in the sixth inning Monday night, he cracked an RBI single into right field. That gave the Royals their fourth run in what became a 7-1 win against the Indians.
Prior to that, Lough was 0-for-8 in his career as a pinch-hitter, although he had three walks and a sacrifice bunt in his 12 appearances.
"[Hitting coach Pedro Grifol] has been doing a good job of preparing these young guys about pinch-hitting," manager Ned Yost said. "First fastball in the strike zone, you better be ready to hit, and David was last night. First-pitch fastball -- boom, base hit. That's what a good pinch-hitter does."
Grifol did lend assistance, and Lough was ready when reliever Matt Albers delivered a fastball knee-high and inside.
"He gave me a scouting report on the pitcher," Lough said. "I was just trying to look early, be aggressive in that situation. I thought he was going to come right after me, which he did, and gave me a nice pitch, and I was able to put it right through the hole."
Yost said it's difficult for young hitters to be successful at pinch-hitting.
"Because their whole focus is on the result. They don't get a hit and it crushes them," Yost said. "But the whole focus has got to be on the process. You've got to be ready to hit and have a good at-bat, because pinch-hitting, there's no other job like it in the world. You can't call time out and do it again. You've got one shot at being successful, and in this sport, it's the hardest job to do."
Lough's hit made Royals pinch-hitters 12-for-59 (.203) this season with seven RBIs. Maxwell had the only home run in the role, lifting Kansas City to a 12th-inning, 4-3 win against the Mets on Aug. 3 in New York.
Dick Kaegel is a reporter for MLB.com. Kathleen Gier is an associate reporter for MLB.com. This story was not subject to the approval of Major League Baseball or its clubs.