Omaha wins Triple-A title behind Ventura's replacement
Omaha wins Triple-A title behind Ventura's replacement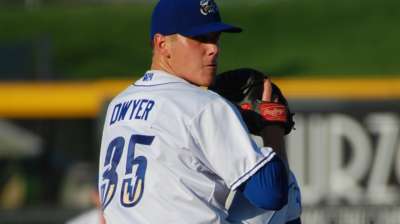 KANSAS CITY -- Left-hander Chris Dwyer wasn't supposed to pitch in Tuesday night's Triple-A National Championship game, but he made the most of his chance.
Dwyer allowed just one hit in seven scoreless innings and led Omaha to a 2-1 victory against Rays affiliate Durham in Allentown, Pa., for its second national title.
Dwyer, a Pacific Coast League All-Star this season, filled in for teammate Yordano Ventura, who made his Major League debut for the Royals instead. Dwyer retired the first 20 batters before a two-out single in the seventh inning by Tim Beckham spoiled his bid for a perfect game. He struck out the next batter to end the inning and finished with eight strikeouts on the night. Ventura allowed one run in 5 2/3 innings in an eventual 5-3 loss to the Indians at Kauffman Stadium.
Michael Mariot took over in the eighth and allowed the Bulls' lone run on a pinch-hit homer.
The Storm Chasers took an early lead against former teammate Jake Odorizzi with a two-out single by Manny Pina in the second inning. Odorizzi, drafted by the Brewers in 2008 and acquired by the Royals in '10, took the loss after giving up one run on five hits in four innings. Irving Falu knocked in the winning run in the sixth inning off reliever J.D. Martin.
The Storm Chasers finished the season with a 77-75 record, including a 7-1 mark in the postseason. Omaha swept Oklahoma City, the PCL's top team, in three games in the first round, then took three of four from Salt Lake for their second PCL title in three seasons.
It was the Storm Chasers' first appearance in the national championship since they lost to Columbus in 2010. Omaha's first Triple-A Championship came in 1990, when it defeated Rochester in a best-of-seven series.
Dick Kaegel is a reporter for MLB.com. Kathleen Gier is an associate reporter for MLB.com. This story was not subject to the approval of Major League Baseball or its clubs.