Prospect Selman covets his second award
Prospect Selman covets his second award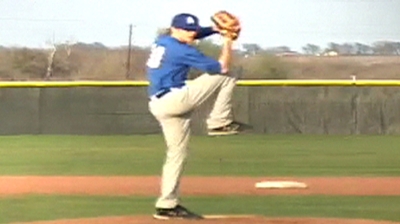 KANSAS CITY -- Sam Selman wasn't recruited by any of the Texas schools despite growing up in Austin. In fact, he had to go all the way to Vanderbilt University in Nashville, Tenn., to find a school interested in taking a chance on a 6-foot-2, 140-pound left-hander.
Selman, the Royals' No. 15 prospect, according to MLB.com, said that's made his run of back-to-back Pitcher of the Year honors in the Royals' Minor League system even sweeter.
Selman attended a camp at Vanderbilt, which offered him a spot on the team. Since then, he's bulked up to 192 in his first two seasons with the Royals, who selected him in the second round of the 2012 First-Year Player Draft.
Selman went 5-4 with a 2.09 ERA in 13 games (12 starts) for rookie classification Idaho Falls last season and was named its Pitcher of the Year. This season, he went 11-9 with a 3.38 ERA in 27 starts for Class A Advanced Wilmington and earned another Pitcher of the Year award.
It hasn't all been smooth sailing this year, however. Selman went 5-5 in 13 starts in the first half of the season with a 4.79 ERA before some help from former Major Leaguer and Blue Rocks pitching coach Steve Leubber. With some help, he improved to 6-4 with a 2.22 ERA in 14 starts after the All-Star break.
"I think I was just putting too much pressure on myself at the start of the year," Selman said. "I was just trying to do too much and not staying within myself. Toward the end of the year, Steve Leubber helped me figure it out and get into a rhythm, and things started to roll. That's when the numbers came in and I felt pretty good."
One of the things they worked on was expanding his pitching arsenal by bringing back the 12-to-6 curveball he threw in high school to add to his fastball, slider and changeup.
Selman's season peaked with the second to last game in which he carried a no-hitter through eight innings with 11 strikeouts. Wilmington defeated Potomac, 1-0, in the 11th inning.
"That was the highlight," Selman said. "That was a good end of the season."
After throwing a career-high 130 innings this season, Selman is going to take a break from baseball until Jan. 1, 2014. His previous career high was 79 innings in college with a short break and then 60 innings for Idaho Falls.
Dick Kaegel is a reporter for MLB.com. Kathleen Gier is an associate reporter for MLB.com. This story was not subject to the approval of Major League Baseball or its clubs.