Perez impresses with all-around skills
Perez impresses with all-around skills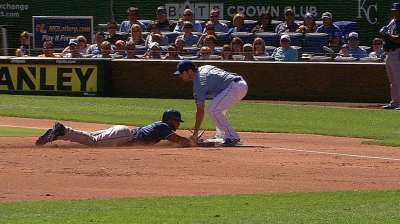 KANSAS CITY -- Salvador Perez has been so impressive behind the plate this season that other teams are taking notice.
"He's a stud. He's a he-man. He can do some things," Rangers manager Ron Washington said. "He can receive, he can block, he can call a game, he can hit and he can throw. And he's young. It looks like he's got a head on his shoulders. He just needs to take care of himself."
After catching two runners stealing on Sunday, Perez has thrown out 22 would-be basestealers. He also holds the franchise record for pickoffs by a catcher with nine in his career.
He's also been a force on offense lately, batting .365 (35-for-96) with 26 RBIs since Aug. 23. Perez's .288 batting average ranks second among AL catchers.
Kathleen Gier is an associate reporter for MLB.com. Dick Kaegel is a reporter for MLB.com. This story was not subject to the approval of Major League Baseball or its clubs.