Kansas City pitchers near franchise record for K's
Kansas City pitchers near franchise record for K's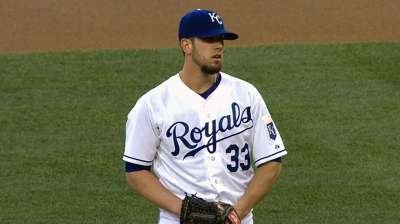 SEATTLE -- Royals pitchers are heading toward another new team strikeout record.
Heading into Wednesday night's game against the Mariners, the staff needed just 10 strikeouts to pass the record 1,177 from last year.
The total before Wednesday included 186 by James Shields, 159 by Ervin Santana, 112 by Wade Davis, 107 by Jeremy Guthrie and 99 by Greg Holland.
Holland's 99 came in just 65 innings, putting him four Ks shy of Jim York's club record for a reliever (103 in 1971). York got his total in 93 1/3 innings.
Dick Kaegel is a reporter for MLB.com. This story was not subject to the approval of Major League Baseball or its clubs.