Yost plans to talk staff with Moore upon return to KC
Yost plans to talk staff with Moore upon return to KC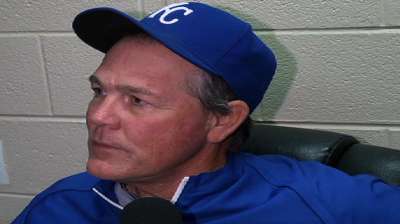 CHICAGO -- Although his return seems imminent, Ned Yost plans to discuss his managerial future and the makeup of the coaching staff with general manager Dayton Moore when the Royals return to Kansas City after their final game of the season at U.S. Cellular Field.
Yost is without a contract for next season, but said Friday he would like to remain with the Royals after Moore publicly said he would like Yost to return.
"We're still in the evaluation process, like we always do," Yost said. "I imagine we'll get all that discussed when we get home, when we get past the season. We just wanted to focus on having the strongest finish we could."
The current staff consists of bench coach Chino Cadahia, hitting coach Pedro Grifol, pitching coach Dave Eiland, third-base coach Eddie Rodriguez, first-base coach Rusty Kuntz and bullpen coach Doug Henry. Cahahia has been on leave because of a family matter since Aug. 27, and Minor League managers Brian Poldberg and Mike Jirschele filling in for him this month.
Dick Kaegel is a reporter for MLB.com. This story was not subject to the approval of Major League Baseball or its clubs.