Hosmer given finale off to finish with .302 average
Hosmer given finale off to finish with .302 average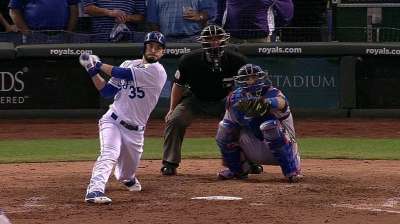 CHICAGO -- The decision to try catcher Salvador Perez at first base rested on Eric Hosmer keeping his average above the .300 mark going into the final game.
Hosmer did so with one hit on Saturday night that put him at .302. The .300 level, of course, historically is one of baseball's standards of top performance.
"It's important. When you're pretty close to it, it's nice to finish above it," Hosmer said. "But for me, it's about the RBIs, I want to drive in runs. That's what we're supposed to do in the middle of the order -- drive in guys. But I was in the two hole most of the year and from where I started out and from last year, .300 is definitely a big number for me and I really embrace it."
Hosmer's hitting improved markedly starting in June, when he was moved to the three-hole, and he finished with 79 RBIs, tying Salvador Perez for third on the team behind Billy Butler's 82 and Alex Gordon's 81.
Most of the other regulars, except for Butler at designated hitter and Lorenzo Cain in center field, joined Hosmer on the bench. With the transplanted Perez on the infield were Johnny Giavotella at second base, Pedro Ciriaco at short and Irving Falu at third. David Lough and Justin Maxwell flanked Cain in the outfield. Brett Hayes was behind the plate.
Dick Kaegel is a reporter for MLB.com. This story was not subject to the approval of Major League Baseball or its clubs.