KC could stick with current roster heading into spring
KC could stick with current roster heading into spring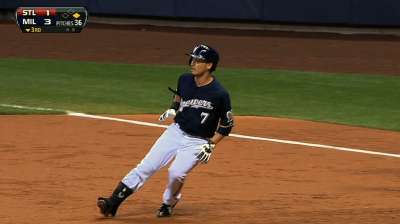 LAKE BUENA VISTA, Fla. -- Increasingly, it sounds as if the Royals might be resigned to opening the season 2014 season without the second baseman and/or another impact bat they've been seeking.
"If we had to start today, we're certainly not where we want to be, but I like the current group that we have, and if we started the season today, I feel like our team is better," general manager Dayton Moore said on Monday. "But every team that leaves Spring Training and is going to win is going to have to make moves along the way."
Those moves might not come during the Winter Meetings that began Monday and will conclude on Thursday.
Emilio Bonifacio, acquired from Toronto last Aug. 14, is the incumbent second baseman. The Royals felt comfortable enough with him and prospect Christian Colon's progress to let Chris Getz go.
"We like Boni, we like Colon," Moore said. "Boni brought a lot to our team last season, so we're content right now."
There's been speculation that the Royals might bid on free-agent second baseman Omar Infante, who is also in the Yankees' sights. But indications are that the Royals don't see Infante as enough of a significant upgrade over Bonifacio to spend big for him.
Indeed, manager Ned Yost was talking on Monday of installing Bonifacio in the second spot of the batting order behind new leadoff man Norichika Aoki.
"As we sit now, I like Boni at second base," Yost said.
Moore added: "We're very pleased with the way Emilio played for us last year. He brought a lot of energy to our team, he brought a speed element that we like that fits in our ballpark. He brings a lot of energy, he's a competitor, he can bunt, he's got a unique skill set for that position. He's very solid in our clubhouse."
And when the bid to sign outfielder Carlos Beltran failed with his decision to sign with the Yankees, the Royals didn't seem to have a second alternative to the outfielder.
What about that additional bat?
"Well, Aoki. That's a big pickup for us. It allows us to move Gordo [Alex Gordon] to the middle [of the lineup]," Moore said. "The success of our team is going to depend on the current group that we have getting better. Which they will."
In other words, the middle of the order might have to rely on the hitters already in house.
"You can only acquire what's available," Moore said. "We took a shot at that, but it didn't work out, so I think the way we're set up now with Aoki and Bonifacio at the top, both of them have a chance to score a lot of runs."
Even after acquiring free agent left-hander Jason Vargas, the Royals talked about possibly adding another starting pitcher.
But Yost said on Monday: "You could always use more help, but I don't think it's required. I'm pretty comfortable with the guys that we have on hand. I think we can compete with the group that we have, especially with our defense. Our guys, for the most part, all throw to contact."
Two free-agent pitchers from the Royals, right-hander Ervin Santana and left-hander Bruce Chen, are still out there. Santana appears to have priced himself out of Kansas City's range, but Chen might be a possibility.
"Bruce was spectacular for us, and we'll just see where that goes. I'm not sure," Moore said.
Dick Kaegel is a reporter for MLB.com. This story was not subject to the approval of Major League Baseball or its clubs.