Young Pena welcomes return to Kansas City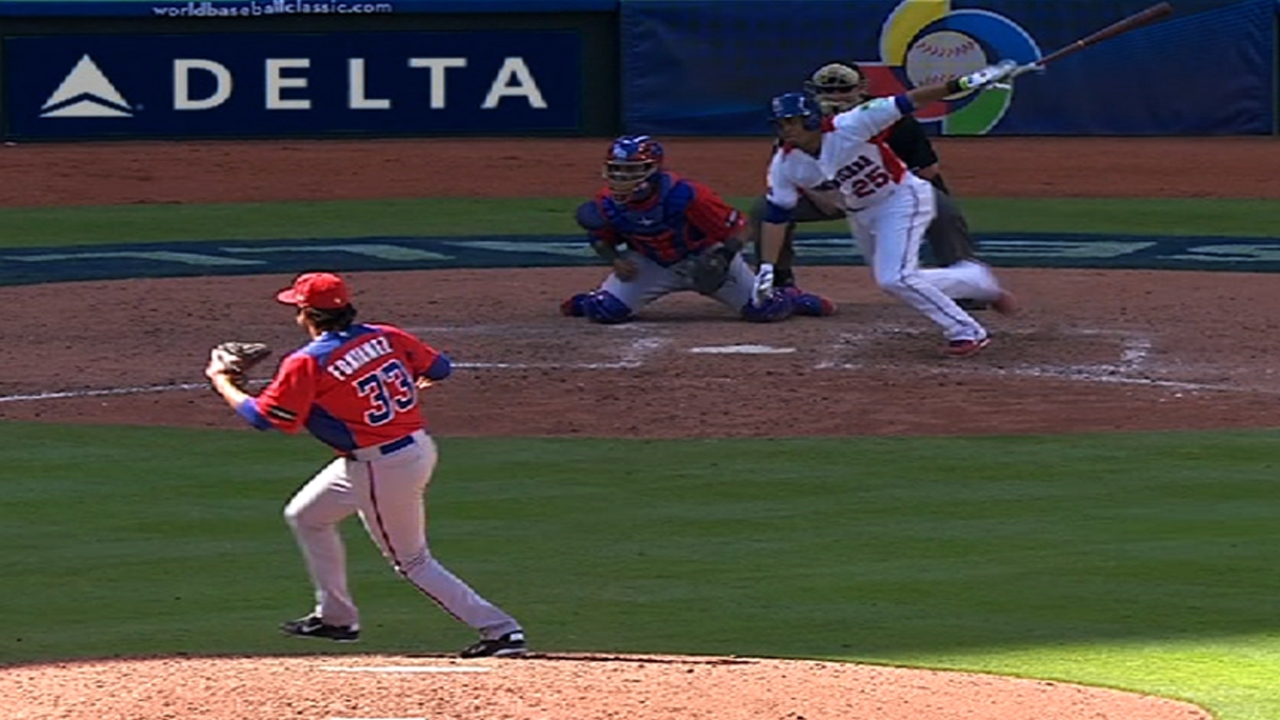 SURPRISE, Ariz. -- When last seen in a Royals uniform, Frank Pena was a chunky kid running around the clubhouse while his father, Tony Pena, was the team's manager. Everybody called him "Frankie."
Some of the front-office and clubhouse folks from those days are still around.
"It's pretty neat to come back and see some people from when I was 10, 11, 12 years old," Pena said. "They used to mess around with me -- 'You're going to be a Royal, you're going to be a Royal' -- and it's certainly happening. It's a pleasure and an honor to be here."
Pena, 24 now and no longer chunky, signed with the Royals and is a candidate to be backup catcher after seven years in the Mets' Minor League system. He was in big league camp twice with the Mets, but never made the roster.
"I can't complain, though. They gave me a lot of opportunity. I'm very appreciative of it," Pena said. "I think it wasn't my time with them and, hopefully here, they'll give me an opportunity and it'll be my time and I'll get up there and help the team."
His older brother, Tony Jr. or T.J., was a Royals shortstop from 2007-09 and is now a pitcher in the White Sox organization, but Francisco followed his father's lead as a catcher.
"Best teacher in the world. My dad has always been there since Day 1, and when I need him, I just need to dial a number and ask him what's wrong," Pena said. "But we've got plenty of guys here that can help me as well and they know what they're doing and I have to take advantage of that as well."
Pena is a potential backup for All-Star Salvador Perez, but he has stiff competition for the job from veterans such as Brett Hayes, Ramon Hernandez and Adam Moore.
"I know Salvy's there and that's his spot. I know what we're here for is trying to get that second spot. Salvy's a great teammate. He's trying to help the most he can, and I'm trying to pick his brain. Since the first day I got here, he's asked me if I needed any help and he's there for me," Pena said.
"But, absolutely, there's some competition. Some veteran guys that have played a lot of years in the big leagues and some guys who have played here with the team and know the pitching staff, and they have a pretty good idea of what they're doing behind the plate. But I know I'm young, I have a pretty good idea what I'm doing behind the plate as well."
Pena is a right-handed hitter who batted .236 in 593 Minor League games for the Mets with 40 homers and 243 RBIs.
"My first couple of years in the Minors I struggled a little bit, but I've been learning how to hit. I've learned how to hit the ball the other way and I've been a little more consistent. Winter ball helped me at lot, back in the Dominican Republic playing with the Aguilas, and I'm a line-drive hitter. I've got a two-strike approach, I don't strike out as much and I just try to hit the ball up the middle," he said.
Born Francisco, called Frankie as a kid and Frank in the Minors, Pena says take your pick for his first name.
"Whatever feels comfortable," he said. "My mom calls me Frank, my wife calls me Frank, my brother, everybody. Back home in the Dominican, the media calls me Francisco, but honestly, I don't mind how they call me. I'll leave it to you."
Dick Kaegel is a reporter for MLB.com. This story was not subject to the approval of Major League Baseball or its clubs.