Hernandez vying to become backup backstop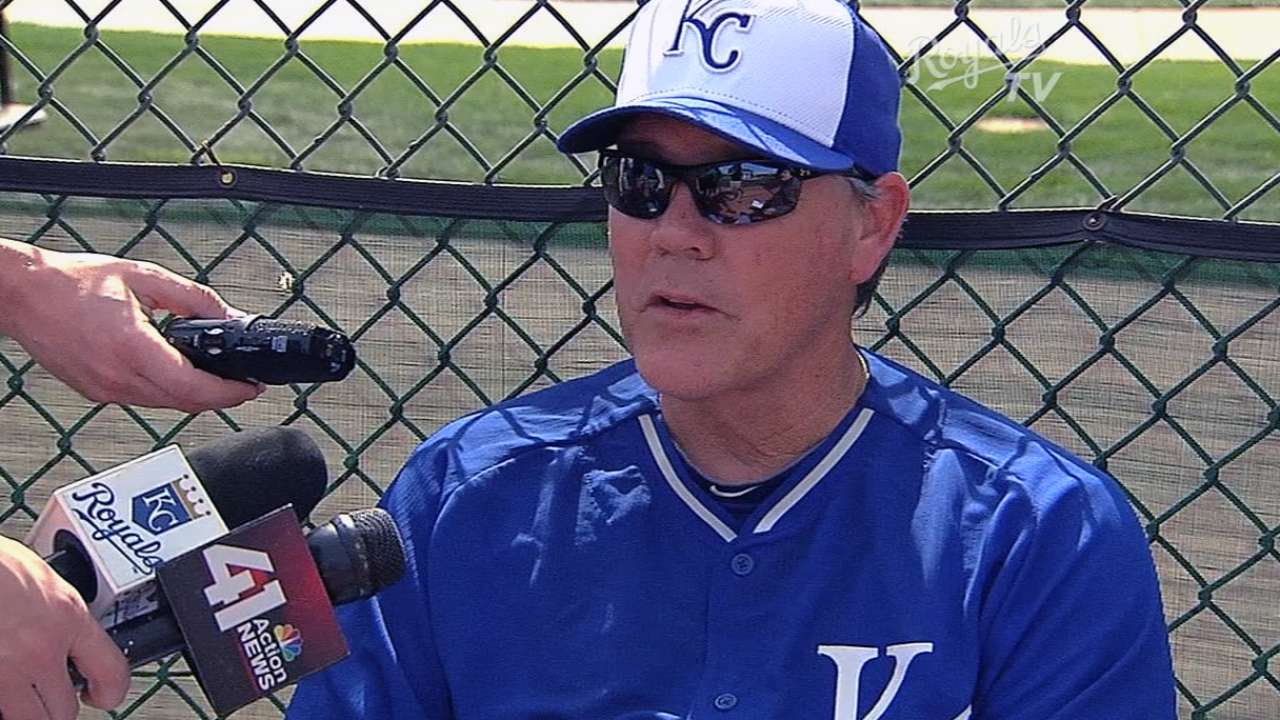 SURPRISE, Ariz. -- Ramon Hernandez brings a lot of credentials to his bid to become the Royals' backup to catcher Salvador Perez.
Hernandez has played 15 Major League seasons and 1,526 games; he's been in six postseasons with Oakland, San Diego and Cincinnati; he was an All-Star in 2003 and, oh yes, he's a .319 hitter at Kauffman Stadium.
He's also 37 years old and sat out most of last season, although that isn't keeping him from being in competition with Brett Hayes, Frank Pena and Adam Moore.
"He has a lot of experience, he's looked good here so far. Both he and Brett Hayes have looked great. All the catchers [have]," manager Ned Yost said.
Hernandez played just 17 games for the Dodgers last year before being released in June. The Blue Jays gave him a brief look at Triple-A Buffalo before he decided to go home to Fort Lauderdale.
"I went home and decided to rest, start working out, then go play winter ball and see if I could catch there a lot," Hernandez said. "It was like a new start-- catch in winter ball and if I sign, great. If not, that's it. It's been a long, nice career."
Being home gave him a lot of time to think things over.
"It's just relaxing. I had a great time when I went home. Refreshed my mind and thought about what I wanted to do. Being with my family, they gave me a lot of support and gave me a new power to start new and fresh," he said.
Hernandez returned to his native Venezuela and played 22 games for Magallanes, batting .328. The Royals saw enough that they signed him to a Minor League contract with a shot to win the backup job.
Defensive skills are the primary requirement.
"Because when we give Salvy a day off, I want him to have a day off so you've got to be able to block a nasty slider from Greg Holland," Yost said. "You've got to be able to control the running game late in a one-run game so I don't have to bring Salvy off the bench like I had to do numerous times last year."
Hernandez has great respect for Perez, 23.
"He's a great kid. He's got a lot of energy. He plays with passion and loves the game of baseball. He has fun playing," Hernandez said.
After years as the regular catcher for the A's, Padres, Orioles and Reds, Hernandez is willing to fill in occasionally for All-Star and Gold Glove winner Perez.
"I got to the point where I had a couple of surgeries to my knees and my body's not the same. So it's kind of tough to catch four or five games in a row," Hernandez said. "Your body lets you know what you can do and what you can't. My mind wants to do it, but your body lets you know. But I'm very happy where I am and if I can play a couple more years, it'd be great as a backup here to help.
"I definitely love the game. That's why I'm still around."
Dick Kaegel is a reporter for MLB.com. This story was not subject to the approval of Major League Baseball or its clubs.